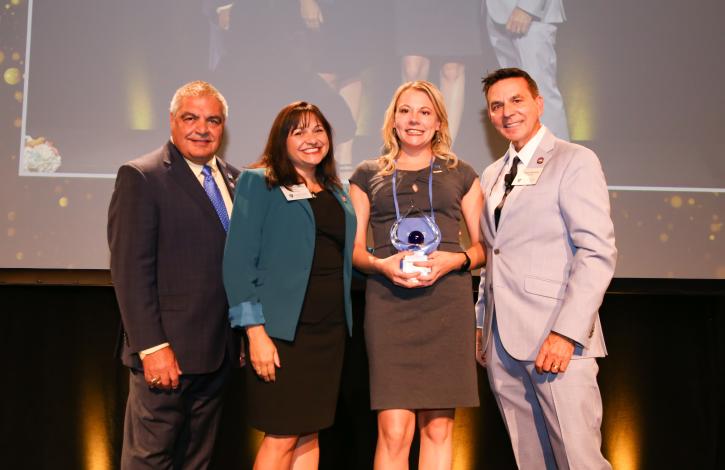 Youngstown Columbiana Association named Ohio REALTORS 2022 Young Professionals Network of the Year
Sep 28, 2022
From left: Ohio REALTORS President-elect Ralph Mantica, Treasurer Ali Whitley, Ohio REALTORS 2022 Young Professionals Network of the Year recipient Haley Luckage of the Youngstown Columbiana Association, and President John Mangas
Ohio REALTORS awarded its 2022 "Young Professionals Network (YPN) of the Year Award" to the Youngstown Columbiana Association of REALTORS (YCAR).
The announcement was made at the Ohio REALTORS 112th Annual Convention & EXPO, Sept. 18-21, in Cleveland.
YCAR's YPN Network started the year with the goal of reaching more membership. It developed a plan to get sponsorships for events and activities, along with a YPN Brochure to inform the members of the Network's value, as well as produced a video to share on social media. YCAR also made YPN t-shirts for the Network and planned monthly events, including:
For the 2021 YPN Care Day, the Network volunteered for Youngstown Neighborhood Development Corporation and assisted with a renovated home clean up.
YCAR YPN collected toys for the Northeast Ohio Adoption Services at a bowling event.
In June 2022, the Network volunteered for Habitat for Humanity for YPN Care Day. It also donated items to the auction for the Association's annual Charity Golf outing in July 2022.
In August, The Network volunteered to paint and cleanup for Heart Reach Neighborhood Ministries, the President's Charity that YCAR is supporting in 2022.
The Network will also be collecting items needed for Christmas for Heart Reach neighborhood ministries during its September and October YPN Events.
In November 2022, the YCAR YPN will be wrapping Christmas presents for Heart Reach Neighborhood Ministries.
The Ohio REALTORS, with more than 37,000 members, is the largest professional trade association in Ohio.