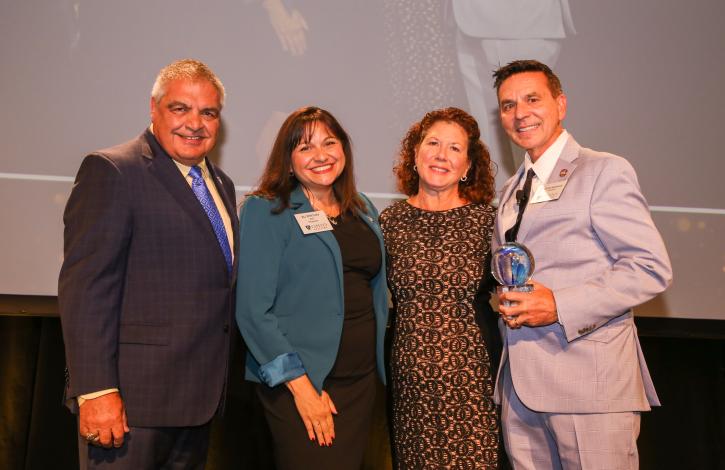 Ohio REALTORS honors Anne Petit with Association's Public Service Award
Sep 29, 2022
From left: Ohio REALTORS President-elect Ralph Mantica, Treasurer Ali Whitley, Ohio REALTORS 2022 Public Service Award recipient Anne Petit, and President John Mangas
Ohio REALTORS presented its 2022 Public Service Award to Anne Petit, the former Superintendent of Ohio's Division of Real Estate & Professional Licensing.
Petit is the third recipient of the Public Service Award, which the Association presents to an individual in the public sector that has made positive contributions to improving real estate and the community. Previously recipients include Trotwood Mayor Mary A. McDonald, for her efforts following the Miami Valley tornadoes in 2019, and former Congressman Pat Tiberi, for his role in helping Ohio navigate the COVID-19 pandemic in his role as head of the Ohio Business Roundtable.
The award was presented during the Ohio REALTORS 112th Annual Convention & EXPO, Sept. 19-21, in Cleveland.
"Anne Petit, retired as Superintendent in June, worked tirelessly on behalf of every real estate licensee in Ohio with remarkable distinction," said Ohio REALTORS President John Mangas. "She led the effort to modernize the state's real estate license law to require additional education and training, while also allowing for alternative methods of delivery. Further she also successfully oversaw the implementation of Ohio's statute regulating appraisal management companies in order to meet federal mandates.
"In short, Anne Petit has a proven track record of both protecting Ohio's consumers and also serving as a fair and impartial watchdog of the real estate industry," Mangas added.
The Ohio REALTORS, with more than 37,000 members, is the largest professional trade association in Ohio.