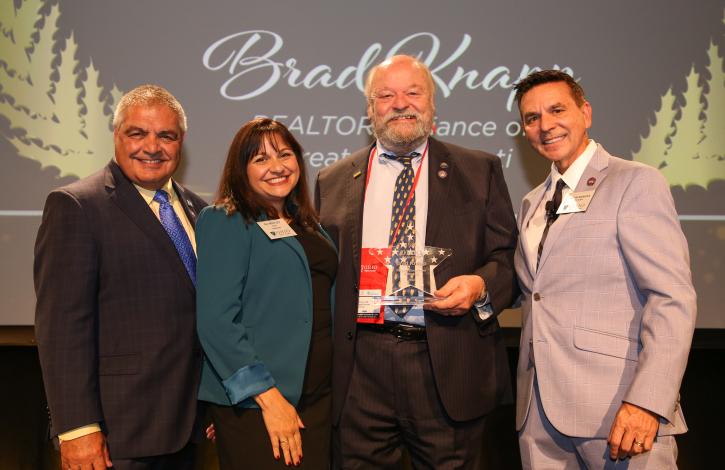 Brad Knapp receives Ohio REALTORS 2022 Political Coordinator Service Award
Sep 29, 2022
From left: Ohio REALTORS President-elect Ralph Mantica, Treasurer Ali Whitley, Ohio REALTORS 2022 Political Coordinator Service Award recipient Brad Knapp, and President John Mangas
REALTOR Brad Knapp, of Lebanon, was honored with the first-ever Ohio REALTORS 2022 Political Coordinator Service Award.
The award recognizes a REALTOR whose outstanding work with elected officials contributes to creating a sound and dynamic Ohio real estate market and fostering vibrant communities.
The announcement of Knapp's selection was made at the Ohio REALTORS 112th Annual Convention & EXPO, Sept.18-21, in Cleveland.
Knapp, over the past 12 years, helped strengthen the profession's voice as its Political Coordinator for Sen. Rob Portman (R-Ohio). He attended and organized numerous political events – both in Ohio and in Washington, D.C. – involving Sen. Portman.
In 2016, Knapp served as chair of the "Ohio REALTORS for Portman" campaign. He served as President of Ohio REALTORS in 2008 and has served on numerous committees and task forces through the years.
The Ohio REALTORS Political Coordinator program pairs key REALTORS with lawmakers at the federal and state level. Coordinators are asked to maintain relationships with specific members of the Ohio General Assembly and Congress to keep them up-to-date on REALTOR issues. They stay in touch throughout the year in the legislator's home district as well as at the Ohio Statehouse and in Washington, D.C. to help reinforce the Association's legislative agenda.
"Brad Knapp's hard work has benefited REALTORS and property owners across Ohio," said President John Mangas. "The industry is grateful for his lasting contributions of preserving property rights and advancing our free enterprise system."
The Ohio REALTORS, with more than 37,000 members, is the largest professional trade association in Ohio.