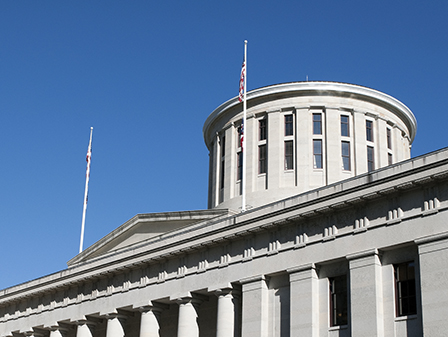 2022 Lame Duck Recap
Jan 17, 2023
As expected, the "Lame Duck" session was nothing short of busy. Ohio REALTORS fared well, getting a few policy priorities across the finish line. We are grateful to the House and Senate for working with our staff and members to successfully adopt various priorities over the past two years of the 134th General Assembly.

January 1 began the start of the 135th General Assembly, which will end on December 31 of 2024. The year kicked off with the debate and vote for House Speaker, which went to Jason Stephens (R – Kitts Hill). The Senate voted once again to retain Senator Matt Huffman as their President.

In the final weeks of 2022, Ohio REALTORS was able to secure changes to Senate Bill 131 which would allow for out-of-state licensed professionals to obtain their real estate license more easily. As introduced, an applicant would not be required to have residency in Ohio but would be able to get their real estate license if they were licensed for one year in good standing. No other education requirements were needed. Ohio REALTORS worked with bill sponsors, Senators Rob McColley and Kristina Roegner to explain why it is important to require Ohio-specific education for applicants, and why it is important for a new applicant to be required to exhibit knowledge of Ohio state laws and regulations before practicing real estate. Ohio REALTORS was successful in amending the bill to require all applicants to take the educational requirements and pass the state law portion of the exam before being licensed. Additionally, real estate brokers from another state would be required to have the experience that is currently needed in Ohio (two years of experience as a licensed broker and completed 20 transactions). These amendments were the product of weeks of discussions with the Ohio REALTORS Legislative Steering Committee to determine what changes would be critical to retain the high professional standards of the Ohio real estate license. We are grateful for the open dialogue of the bill's sponsors over these past four years of working on this legislation. The bill passed both chambers and was sent to the Governor for his final approval.

Another win for Ohio REALTORS is the passage of a portion of the Residential Property Assessed Clean Energy bill, House Bill 646, introduced by Representatives Bill Roemer and Al Cutrona. The bill would change the lien priority of the financing mechanism and would put in place various homeowner protections. The legislation simply ran out of time, as the end of the general assembly inched closer. It was decided by the coalition that a portion of the legislation could have success in moving forward and the rest of the legislation could be addressed in the new year when there was more time. The piece of HB 646 to change the lien priority to be subordinate to all other liens was amended into House Bill 364. The bill passed and was sent to the Governor for his signature. Ohio REALTORS will continue to monitor the issue and work to enact consumer protections.

Unfortunately, not all bills that passed were beneficial to Ohio REALTORS and Ohioans. A late-night amendment to House Bill 45 would have negative effects on the affordable housing industry in Ohio. The amendment would allow a county auditor to use various approaches to value federally subsidized affordable housing for tax purposes. This could ultimately drastically increase the property tax liability for those properties. It would make the property appear that they are collecting market rents when they legally cannot do that due to a restrictive covenant in the deed. The high tax burden could put properties out of service, reducing affordable housing for low-income tenants and putting these properties at risk of foreclosure.

Additionally, the amendment further prohibits the coupling of the low-income housing tax credit with the historic tax credit. These credits are often used together by developers to make affordable housing developments work financially. Both provisions could have severe implications for tenants who desperately need affordable housing options. Low-income housing serves Ohioans who are on a fixed income, senior citizens, students, and our neighbors who need the added help for housing – these are often workers at daycares, restaurants, and many other service jobs. Ohio REALTORS joined a coalition to oppose these amendments. A letter was sent to Governor DeWine asking for his line-item veto of these provisions. We assert that this language is harmful to the housing needs of Ohio. During a time when we need more housing, of all types, this legislation takes our state in the opposite direction of where we need to go – we need to build more housing.

Unfortunately, the Governor did not include our suggested line-item vetoes and the bill was passed as-is.

Despite the rollercoaster of events during lame duck, Ohio REALTORS appreciate the relationships at the Ohio Statehouse, and across the state, to work on policy changes that make Ohio a great place to live, work, play and own a home. We look forward to another great session and will continue to provide updates in the new year.