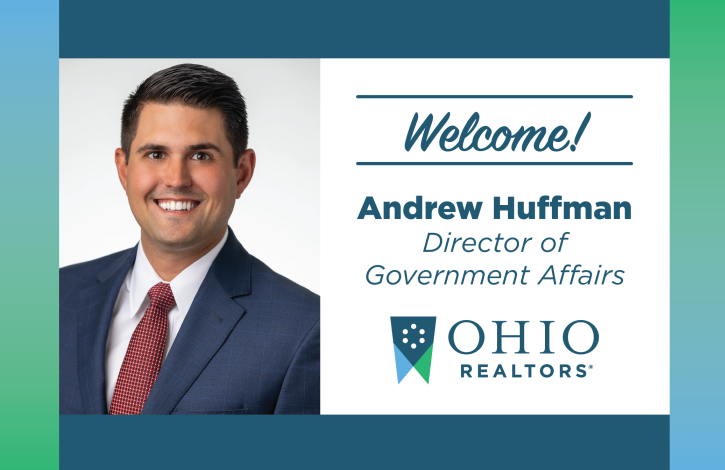 Ohio REALTORS Welcomes Andrew Huffman
Jan 24, 2023
Andrew Huffman is joining Ohio REALTORS® as its Director of Government Affairs. Andrew will represent the interests of Ohio REALTORS® before Ohio's legislators and executive policymakers.
Andrew Huffman comes to the Ohio REALTORS® with nearly 13 years of lobbying experience at one of Ohio's largest independent lobbying firms. Throughout his career, he has shown the ability to influence a variety of policy areas and has led a legislative team to successfully advocate before Ohio's decision-makers. During his lobbying career, Andrew has had the opportunity to represent numerous statewide associations as well as Fortune 500 companies. He has used his extensive knowledge and expertise in state government to represent his clients before Ohio's legislative and executive branches of government. He brings extensive experience in developing successful advocacy strategies and has established a strong reputation with Ohio's lawmakers as an effective and ethical lobbyist.
Andrew is originally from Dover, Ohio. After graduating high school, he attended Wittenberg University, where he earned a Bachelor of Arts Degree in Political Science. While a student at Wittenberg, Andrew was given the opportunity to assist a professor in conducting research focused on analyzing variables that lead to the political success of members in the United States Congress. Their findings were presented at the Midwest Political Science Association's National Convention in Chicago, Illinois. After graduation, Andrew was accepted into the highly competitive Legislative Service Commission (LSC) Fellowship Program, where he worked in the Ohio Senate. He then served as the Administrative Aide to the Senate Majority Caucus.
Andrew currently resides in New Albany, OH with his wife and two young children.