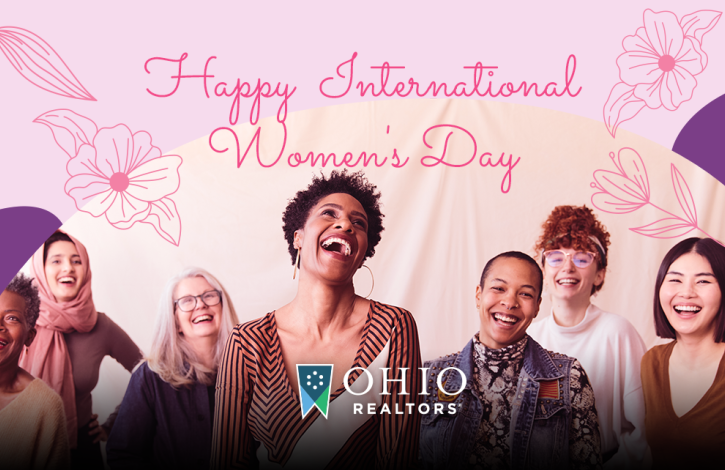 Ohio REALTORS DEI Committee celebrates International Women's Day
Mar 8, 2023
By Bernadette Gerren, Chair, Ohio REALTORS Diversity Equity & Inclusion Committee
The Ohio REALTORS Diversity, Equity & Inclusion Committee stands in solidarity and proudly raises the banner in celebration of International Women's Day today.
International Women's Day (IWD), on March 8, is a global day celebrating the social, economic, cultural and political achievements of women. The day also marks a call to action for accelerating gender parity. International Women's Day provides an important opportunity for groups worldwide to embrace and cultivate an ongoing commitment to diversity, equity and inclusion. From the IWD website:
Imagine a gender equal world. A world free of bias, stereotypes and discrimination. A world that's diverse, equitable and inclusive. A world where difference is valued and celebrated. Together we can forge women's equality. Celebrate women's achievement. Raise awareness about discrimination. Take action to drive gender parity. IWD belongs to everyone, everywhere. Inclusion means all IWD action is valid.
We can all truly embrace equity. It's not just something we say. It's not just something we write about. It's something we need to think about, know, value and embrace. It's what we believe in, unconditionally. Equity means creating an inclusive world.
When we embrace equity, we embrace diversity and we embrace inclusion. We embrace equity to forge harmony and unity, and to help drive success for all. Equality is the goal and equity is the means to get there. Through the process of equity, we can reach equality. Don't just say it. Think about it. Be it. Do it. Value it. Truly embrace it.
Embrace equity in all its forms. Share the passion and excitement that comes from valuing and supporting differences. Reflect on how we can all be part of the solution, not the problem. Everyone everywhere can play a part. All IWD activity is valid. That's what makes IWD so inclusive. Collectively, we can all forge positive change.
Encourage and rally your friends, family, colleagues and community to embrace equity. Together we can work collectively to impact positive change. Together, we can all help forge an equal world. Let's all embrace equity today and always.