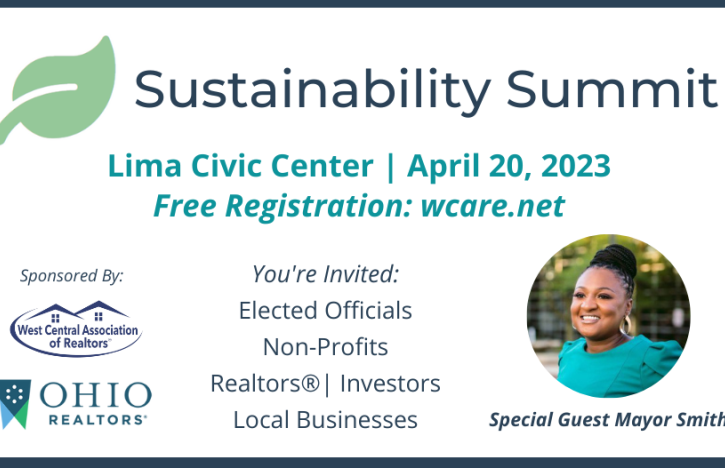 West Central Association of REALTORS to host Sustainability Summit
Mar 23, 2023
The West Central Association of REALTORS will host a FREE Sustainability Summit on April 20, from 8 a.m. to 3 p.m., at the Veterans Memorial Civic Convention Center Lima. The Sustainability Summit is a collaborative event for elected officials, non-profits, REALTOR members, investors and local businesses to raise awareness and engagement in community sustainability efforts.
The event will feature special guests Lima Mayor Sharetta Smith and Athens Mayor Steve Patterson.
The West Central Association of REALTORS was awarded a $5,000 Sustainability Grant from the National Association of REALTORS to support activities that promote sustainability and resiliency.
NAR offered the Sustainability Grant to state and local associations nationwide, to help implement a sustainability program, event, plan, or update for their members, and encourage ongoing awareness about the high value of sustainability in real estate. This year, the pilot year for the Sustainability Grant, a total of just 21 associations from around the country were selected by the NAR member-led team of evaluators to receive up to $5,000 for their sustainability-focused projects. This was a competitive grant with limited total funding.