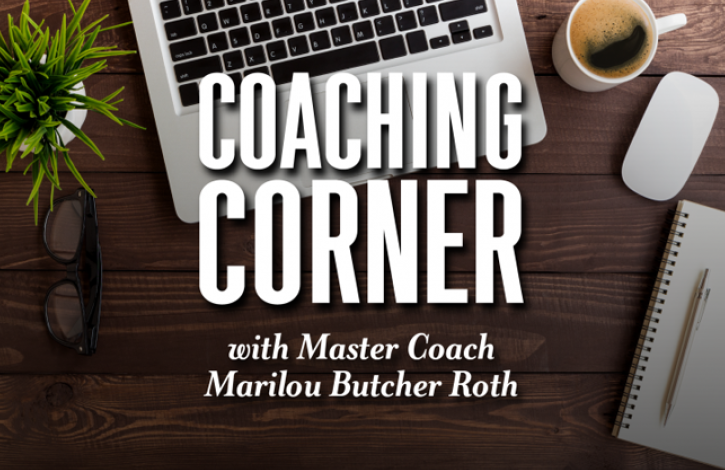 Coaching Corner: Honoring Mom
May 12, 2023
By Marilou Butcher Roth, Master Coach
Mother's Day... one of the Sundays in the beautiful month of May which honor mothers. This may be a day you celebrate as a mother, with your mother, or both. Or perhaps, not at all. In any event, we each came forth into this world via our mothers, and our experience in this world began at that moment. So, whether you had what you judge to be a good childhood or a not-so-good childhood, we each learned something from the person we knew as our mom.
Recently, I was conversing with my sister, who is 10 years younger than me, and our childhood experiences were drastically different. That may not make sense, and yet, it is quite true and fairly common. My sister felt completely adored as a child -- I did not. No whining here, it's just the way it was. I was the firstborn and apparently, had more energy than most children (imagine!), causing my parents some high-energy first-child angst. All good, they loved me, it was simply a different experience than my sister.
Here is the interesting part of the conversation. She said that because she felt so adored by our mother, she learned how to be that way with her children. Without hesitation, I easily responded that because I did not feel adored by our mother, I knew how to be adoring with my children. See how that works? We learn regardless! Sometimes the learning comes from what we see and experience, and sometimes the lack of that experience brings more clarity as to how we want to be. Beautiful, isn't it?
Whatever plans you make on Sunday, remember what you learned about yourself, either consciously, or unconsciously, from your mother--and for that reason alone, it is cause for honoring that relationship. Of course, it doesn't mean you have a great relationship with your mother; perhaps the clarity and awareness of your individual learning are adequate.
Here's to mothers!