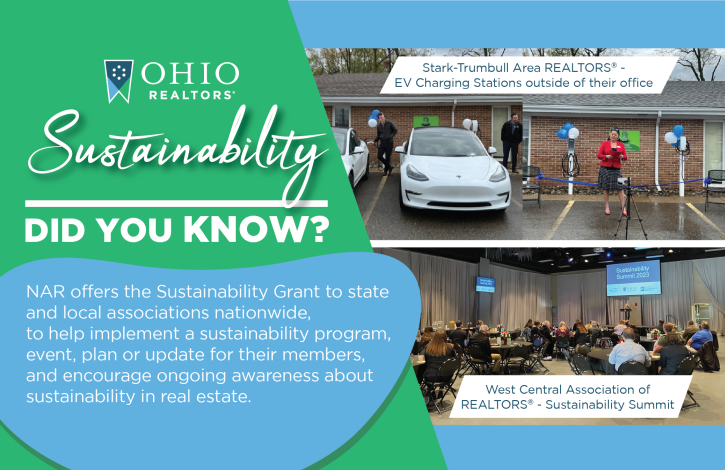 Ohio Local Boards receive NAR Sustainability Grants, Deadline for 2023 Grant Applications is May 31
May 12, 2023
By Veronica Cardello, Director of Local Government Affairs
NAR offers the Sustainability Grant to state and local associations nationwide, to help implement a sustainability program, event, plan or update for their members, and encourage ongoing awareness about the high value of sustainability in real estate. This year, the pilot year for the Sustainability Grant, 21 associations were selected by the NAR member-led team of evaluators to receive up to $5,000 for their sustainability-focused projects. Out of 21, three of the winners are from Ohio. This was a competitive grant with limited total funding and NAR was pleased to have received many great applications and interest from associations across all regions of the U.S. for this new opportunity.
West Central Association of REALTORS - Sustainability Summit
Grant Money Received: $3,000
The WCAR Sustainability Summit brought experts from around Ohio to share their sustainability successes, provide ideas for multiple organizations to work on the same goals and introduce sustainable technology and tools for residential and Commercial properties.
The grant was used to produce a Sustainability Summit on April 20, 2023 at the Veterans' Memorial Civic Center in Lima. Attendees included REALTORS, investors, non-profits, local businesses and elected officials including Lima Mayor Sharetta Smith as a panelist.
Stark-Trumbull Area REALTORS - EV Charging Stations outside of the office
Grant Money Received: $5,000
The grant was used to expand the sustainability benefits and awareness of electric vehicles and the newly installed EV charging stations at the Stark Trumbull Area REALTORS. Specifically, the funds will be used to promote the benefits of electric vehicles through educational programs and workshops, as well as to raise awareness of the new charging stations through targeted marketing and outreach efforts. In addition, the grant will be used to improve the EV charging infrastructure, ensuring that the charging stations are reliable and accessible for all electric vehicle drivers. Ultimately, the grant will help to reduce emissions and promote sustainable transportation options in the community, while also demonstrating the Stark Trumbull Area REALTORS commitment to environmental stewardship.
Dayton REALTORS - Improve energy efficiencies in building
Grant Money Received: $5,000

The grant will be used to improve energy efficiencies throughout the Dayton Realtors' office located at 1515 South Main Street in Dayton. As part of the top-to-bottom overhaul of the building, the Sustainability Grant will aid in the installation costs of a new airflow circulation system and the modernization of the heating and cooling units.
Are you seeking funding for your sustainability projects? Associations can now apply for a 2023 NAR Sustainability Grant of up to $5,000 to fund programs and projects to further your association's sustainability efforts and spread sustainability awareness. Work with your Association Executives to explore how this opportunity might best be utilized at your association! Apply by May 31, total funding is limited.
For more information, contact Veronica Cardello at