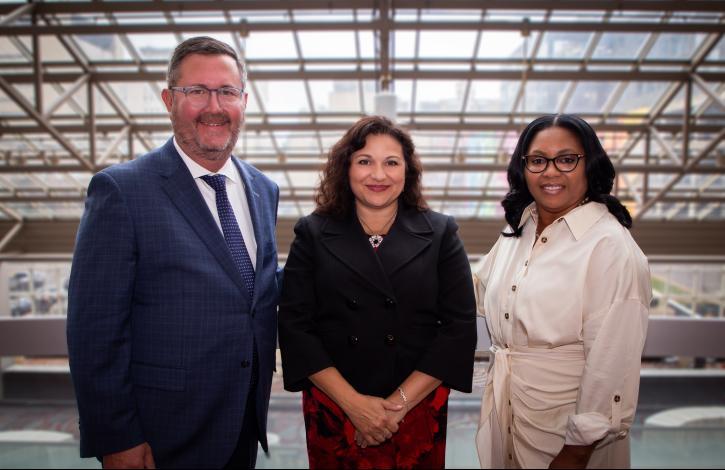 Meet the 2024 Ohio REALTORS Leadership Team: Whitley, Billings, and Gordon
Sep 14, 2023
The 2024 Ohio REALTORS Leadership Team of (from left) Treasurer Mic Gordon, President Ali Whitley and President-Elect Michelle Billings


Ohio REALTORS announced the election of its 2024 Leadership Team during the Association's Annual Convention & EXPO, Sept. 10-13, in Cincinnati. The 2024 team – comprised of Ali Whitley, President, Michelle Billings, President-elect, and Mic Gordon, Treasurer – will be installed into office during the Ohio REALTORS Winter Conference in January 2024.
President Ali Whitley is a Real Estate Agent and Director of Education with RE/MAX Crossroads in Akron and is an instructor of professional designations and certifications conferred by the National Association of REALTORS.
Whitley has been active in the Akron Cleveland Association of REALTORS since 1997, serving as President in 2012, and has chaired and served on several committees such as the Council on OR NAR Leadership Development, Professional Development Equal Opportunity Committee, Communications Committee, Strategic Planning Committee, Nominating and Leadership Development, and Legislative Committee. She also served as an RPAC Trustee in 2015-2016. She was awarded the 2013 REALTOR of the Year from the Akron Area Board of REALTORS and was honored by Crain's Cleveland Business as a Women of Note in 2012.
At Ohio REALTORS, Whitley has served as a director/alternate since 2006. She has served as a member and in leadership for several of the organization's committees and task forces, including Executive, Finance, Global Business Alliance, Nominating Committee, Professional Development, Enlarged Legislative Committee among others. She served as District 3 Vice President in 2019-2020 and has been involved with My REALTOR Party, RPAC fundraising and programs, and as an RPAC Trustee.
Whitley is a National Association of REALTORS Director, serves as Chair of the 2023 Emerging Business and Technology Forum, and as a member of the Credentials and Campaign Rules Committee. She has also served on the Commitment to Excellence Committee, Social Media Advisory Board, and Professional Development Committee. She contributes to RPAC as a Golden R Major Investor.
Whitley has earned the National Association of REALTORS Commitment to Excellence Endorsement (C2EX) and has earned multiple designations and certifications including the Accredited Buyers Representative (ABR), the Certified Residential Specialist (CRS), Certified International Property Specialist (CIPS), Senior Real Estate Specialist (SRES), At Home with Diversity (AHWD), and Real Estate Negotiations Expert (RENE), among others. She is a 1992 graduate of The Ohio State University.
Whitley volunteers in her community as a member of Firestone ASA Theater Stage Parents Booster Association and has recently completed 2 three-year terms as a Trustee of Weathervane Community Playhouse. Past involvement includes President of Miller South Drama Parent Association, a PTA member at Miller South School for the Visual and Performing Arts, PTA member of the King Elementary School, and a Girl Scout Troop Leader. Whitley resides in Akron with her three children, Kayla, Martin, and Frances.
Ohio REALTORS 2024 President-elect Michelle Billings is a Real Estate Agent with Coldwell Banker Realty in Cincinnati.
Billings, licensed in both Ohio and Kentucky, has demonstrated her passion for the industry through her consistent involvement with the local, state and national REALTOR associations.
On the local level, she served as President of the REALTOR Alliance of Greater Cincinnati in 2019 and President of the Cincinnati Women's Council of REALTORS in 2017. Additionally, Billings has served on and chaired numerous committees, including Young Professionals Network, Professional Standards & Arbitration, Strategic Planning and Past Presidents, among others.
At the state level, she has chaired and served on the Diversity Equal Opportunities Committee, Local Government Forum, Legislative Steering Committee, Enlarged Legislative Committee, and Board of Directors, among others. She also serves as the industry's State Political Coordinator for Sen. Cecil Thomas (D-Cincinnati).
For the National Association of REALTORS, Billings has served on the Federal Finance and Housing Committee, Board of Directors and Local Leadership Idea Exchange and is currently serving on NAR's 2023 Research Committee. Billings is a Sterling RPAC Major Investor.
Billings is a graduate of both the REALTOR Alliance of Greater Cincinnati and Ohio REALTORS Leadership Academies.
She has earned the National Association of Realtors Commitment to Excellence C2EX, At Home with Diversity Certification (AHWD), and the Short Sale Foreclosure Certification (SFR).
In 2017, she was the recipient of The Beaulah Mathys Achievement Award at Coldwell Banker Realty. The Award is given in memory of Beaulah Mathys, who consistently exemplified the highest standards of professionalism and absolute customer commitment. In her spare time, Billings can be found volunteering at a Battered Women's Shelter, serving on the Cleveland Fed Business Advisory Council, traveling, trying food from different places, reading and hanging out with her family. Michelle resides in Cincinnati.
She has four children, Rashee, Alexia, Camaiya, and Olivia and she is Mimi to four grandchildren.
Ohio REALTORS 2024 Treasurer Mic Gordon is the Operating Principal of Keller Williams Greater Columbus Realty and Keller Williams Excel Realty.
Gordon, licensed in 1987, leads two brokerages of nearly 360 agents and continues to directly serve clients by listing and selling homes full-time in addition to the leadership roles he has held since 2003.
On the local level, he served as President of Columbus REALTORS in 2017. Additionally, Gordon has served on and chair numerous committees, including Governance, Board of Consultants, Budget & Finance, Housing Affordability and Community Partnership, CEO Evaluation, CORPAC Governing Board, and Government Affairs Forum. He was honored as Columbus REALTORS Salesperson of the Year in 2020 and received a Lifetime Achievement Award from the organization in 2018.
At the state level, he has been a member of Ohio REALTORS Board of Directors since 2010. Gordon has chaired and served on a number of committees, including Strategic Planning, Legislative Steering, Enlarged Legislative, Local Government Forum, Professional Development, RPAC Trustees, License Background Check Task Force, and the Presidential Advisory Group to Study Dual Agency in Ohio. He serves as the industry's State Political Coordinator for Sen. Michelle Reynolds (R-Canal Winchester). Gordon was appointed by Gov. Mike DeWine to serve as a member of the state's Federally Subsidized Housing Taxation Study Committee.
For the National Association of REALTORS, Gordon has served on the Federal Taxation Committee and was a member of its Board of Directors (2016-2018, 2022). He is "Golden R" RPAC Major Investor and has been inducted into the NAR RPAC Hall of Fame and Ohio REALTORS RPAC Hall of Honor.
In his spare time, Gordon enjoys spending time with his family, following all of his favorite Ohio sports teams, attending Columbus Crew and Cincinnati Bengals games, and raising awareness for causes close to his family and friends.
Gordon, a lifelong resident of Central Ohio, has been married to his wife, Patty, for 31 years. They have two daughters, Claire and Paige.
The Ohio REALTORS, with more than 36,000 members, is the largest professional trade association in Ohio.