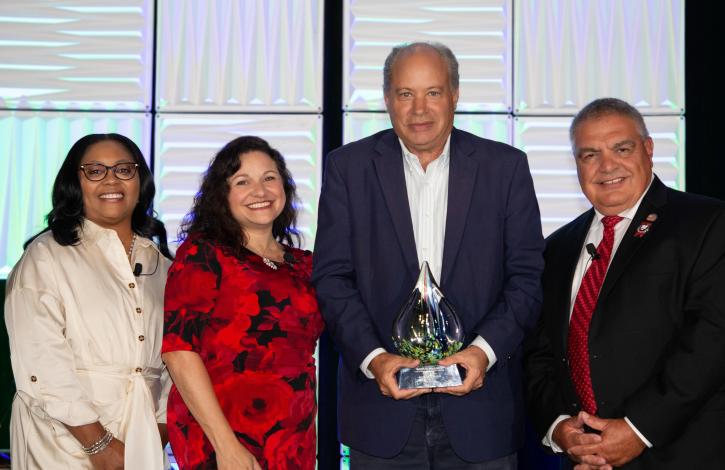 John Royer receives Ohio REALTORS 2023 Mary L. Pollock Lifetime Achievement Award
Sep 18, 2023
From left: Ohio REALTORS Treasurer Michelle Billings, President-Elect Ali Whitley, Ohio REALTORS 2023 Mary L. Pollock Lifetime Achievement Award recipient John Royer, and President Ralph Mantica
REALTOR John Royer, of Columbus, was honored with the Ohio REALTORS 2023 Mary L. Pollock Lifetime Achievement award.
The award, now in its fifth year, is presented to a deserving Ohio REALTOR who has gone above and beyond the call of duty on behalf of the profession – someone who performs the hard, necessary work to move the organization forward without seeking the accolade or spotlight.
The announcement of Royer's selection was made at the Ohio REALTORS 113th Annual Convention & EXPO, in Cincinnati, September 10-13
Royer has received numerous accolades throughout their years of service to the REALTOR community – including:
Serving as President of the Local Association in 2016
Serving as a District Vice President;
Serving as Director for both Ohio REALTORS and NAR;
Serving on several key Committees for Ohio REALTORS including RPAC Trustees, Ohio My REALTOR Party, Res. Property Management, and Investment Forum.
Holding membership in both the NAR Hall of Fame and Ohio REALTORS Hall of Honor.
"John is such a worthy recipient of this prestigious award," said President Ralph Mantica. "He continues to share his time and talent for the betterment of his community and the Association. Most recently, he devoted a significant amount of his time and expertise with the renovations that have taken place at our headquarters building – ensuring that energy efficiency measures and other critical upgrades were integrated into the plans."
Civically, Royer's contributions extend beyond the REALTOR family through support to a community organization that provides stability and support to those who need it most.
The Community Housing Network assists those contending with mental illness, addiction, or trauma-related issues who need supportive services and resources to move forward. They start with housing because it fulfills a basic human need, allows them to feel safe and comforted, and gives its residents a place to rest, recover and reset.
Mary Pollock was the first recipient of this award in 2019.
The Ohio REALTORS, with more than 36,000 members, is the largest professional trade association in Ohio.