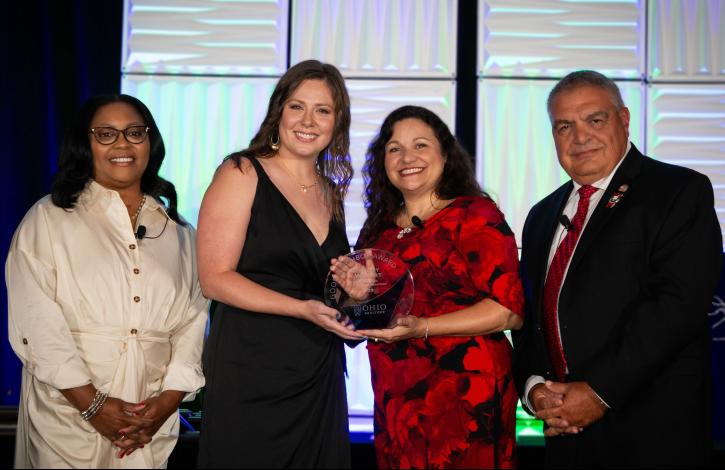 Tiffany Wright selected as Ohio REALTORS 2023 Good Neighbor Award recipient
Sep 18, 2023
(From left): Ohio REALTORS Treasurer Michelle Billings, Ohio REALTORS 2023 Good Neighbor Award Recipient Tiffany Wright, President-Elect Ali Whitley, and President Ralph Mantica.
REALTOR Tiffany Wright, of Lebanon, is honored with the Ohio REALTORS 2023 Good Neighbor Award. Wright was presented with the award at the Ohio REALTORS 2023 Annual Convention & Expo in Cincinnati, Sept. 10-13. Wright was nominated by the Southern Ohio Association of REALTORS.

The Good Neighbor Award, one of the organization's most prestigious honors, is presented to an individual REALTOR who has shown exemplary commitment to community service.

There are so many people who choose to open their hearts and homes to little ones, some choose to foster, and some choose to adopt. In 2018, Tiffany's family found themselves on a similar path. Through many conversations, they discovered a family friend who was helping someone place a child for adoption.

Unfortunately, the pregnancy had many challenges and they lost touch with the mother. However, seven months after the initial contact, Tiffany received an unexpected call that a baby girl was awaiting them in the Neonatal Intensive Care Unit (NICU) and that the mother had already left. The level of shock was indescribable- no nursery, no car seat, nothing.

Tiffany and her family were told that the baby was born with Neonatal Abstinence Syndrome, meaning she was born with multiple, dangerous drugs in her system, and immediately rushed to her side. Unfortunately, Tiffany saw that the hospital was filled with other babies facing the same challenges.

Once the baby was healthy and thriving, and using the baby girl's courage, smile, laughter, snuggles, and fierceness as an inspiration, Tiffany founded a nonprofit called the Magnolia Resource. Its goal is to help children and families on a similar journey, providing resources that give courage and support to others impacted by foster care, kinship care, or adoption.

She now coordinates with other local non-profits, social workers, government and public services, and professionals to spread the word about the resources available through the Magnolia Resource and helps educate the community on how to support children and families going through the same experiences.

You can learn more about the Magnolia Resource by clicking here.