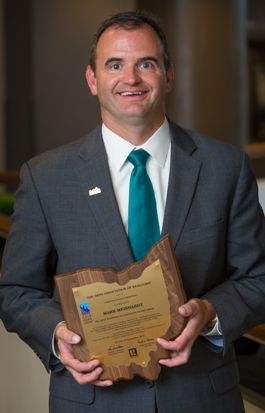 Mark Meinhardt selected as OAR "Community Service" honoree
Sep 11, 2013
The presentation of the award was made at the Association's Grand Session, a highlight of OAR's 103rd Annual Convention, Sept. 8-10, in Columbus. Meinhardt is president and chief executive officer of Star One Real Estate, Cincinnati.
The Excellence in Community Service Award is presented to an individual REALTOR who has shown exemplary commitment to community service.
Meinhardt was honored for his role as president and co-founder of Sophie's Angel Run, established in 2007 in memory of his daughter Sophie Grace who lost her life suddenly to a pediatric brain tumor during surgery to remove it. Sophie's Angel Run was established to help change the outcome of children diagnosed with pediatric brain tumors through pediatric research and, to keep her memory alive, creation of an educational scholarship fund.
Since 2007, the 5K walk/run has attracted more than 11,500 participants and raised in excess of $320,000 for the Cincinnati Children's Hospital Center for Pediatric Brain Tumor Research. Additionally, the event has funded more than $16,000 in educational scholarship in Sophie's name.
The Ohio Association of REALTORS, with more than 26,000 members, is the largest professional trade association in Ohio.