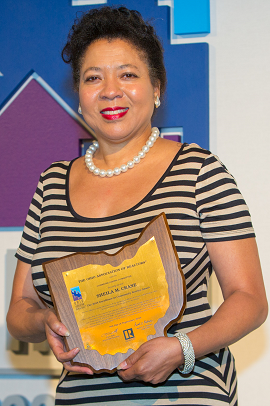 Sheila Crane selected as OAR's 2014 'Community Service' honoree
Sep 12, 2014
The presentation of the award was made at the Association's Grand Session, a highlight of OAR's 104th Annual Convention, Sept. 8-10, in Cleveland. Crane is associated with HER REALTORS.
The Excellence in Community Service Award is presented to an individual REALTOR who has shown exemplary commitment to community service.
Crane was honored for her efforts raising awareness of the growing problem of human trafficking in Ohio and providing a path forward for survivors. Her work with the University of Dayton's Abolition Ohio Speaker's Bureau and the University of Toledo's TEN: Trafficking Education Network, along with a variety of nonprofit organizations and municipalities, has helped to provide safe havens and ongoing educational support to help Ohio's rescued survivors achieve a better future.
She has served for six years on the Miami Valley In-Ovations Board of Trustees (Montgomery County Board of Developmental Disabilities), the last two as Board Chair. The organization's housing structure began 18 years ago with 10 homes. Solutions for Community Living will create a similar model working with the juvenile court system, Children's Services, Care House and various others to provide complete care to traumatized survivors of trafficking. An academic component will provide a continuance of exposure to boost educational levels.
"There is no such thing as a child prostitute," Crane said. "Trafficking involves force, fraud and/or coercion and minors cannot give consent. Many adult prostitutes were sexually victimized and trafficked as a youth. Providing safe haven for Ohio's run-away and throw-away youth is the least we can do to restore our kids and give them a chance for a better future."
The Ohio Association of REALTORS, with more than 27,000 members, is the largest professional trade association in Ohio.