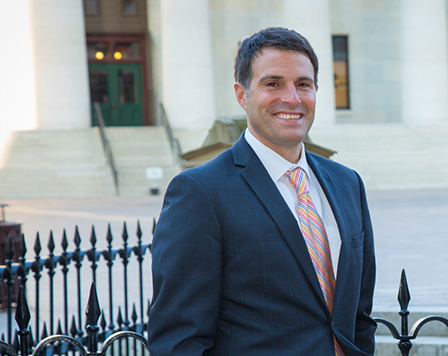 Saying goodbye to a key part of the OAR family
Aug 30, 2016
By Bob Fletcher, OAR Chief Executive Officer
Ohio's REALTOR community says farewell to an important part of its team...someone who served the organization with distinction since 2000. Paul Glass, the Ohio Association of REALTORS director of public affairs, is relocating with his wife, Shannon, and four children to Portland, Ore.
Paul was a remarkable advocate for the state's real estate profession and was instrumental in giving the industry a strong, respected voice in the halls of the Ohio State House and on Capitol Hill. Equally important, he helped the organization build a stronger bond with our Local Boards and REALTORS throughout the state.
In his position, Paul coordinated the Association's Legislative Steering Committee, Issues Mobilization Committee and REALTORS Political Action Committee fundraising, as well as spearheaded our grassroots initiatives. He, along with fellow Public Policy team member, Scott Williams, successfully advanced the industry's policy positions with state lawmakers -- including leading repeated fights to thwart an imposition of a sales tax on real estate services and, most recently, helping the profession make significant strides to not only update Ohio's licensing structure, but also modernize the delivery of pre-license real estate education via House Bill 532.
He played an instrumental role in the development of two critical programs that will reinforce the organization's long-term viability -- creating a political advocacy fund that helps to reinvigorate our approach to public policy and launching the OAR Leadership Academy to help foster future leaders within the organization and in the community.
Prior to joining OAR, Paul served as the Caucus Executive Assistant for Speaker Jo Ann Davidson and as the Campaign Manager for the Ohio House Republican Campaign Committee. Additionally, he previously served as legislative aide to Sen. Bill Harris.
It's a bittersweet moment for all of us that are a part of the OAR family. While we are beyond thrilled about new opportunities that will await Paul and his family in the months and years ahead, we cannot help but be sad about losing his immense talent, wisdom and wit.
On behalf of the staff and the more than 30,000 REALTORS throughout Ohio...thank you, Paul, for sharing your friendship and talent! We wish you nothing but the best. You will be sorely missed.