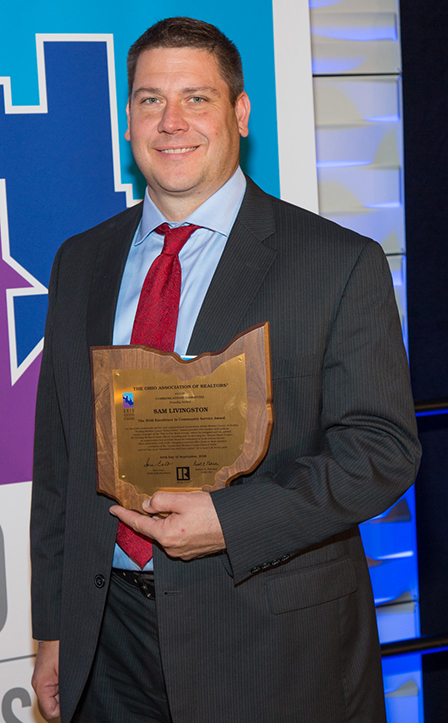 Sam Livingston honored as OAR's 2016 'Community Service' recipient
Sep 28, 2016
REALTOR Sam Livingston of Medina County was honored with the Ohio Association of REALTORS 2016 Excellence in Community Service Award.
The presentation of the award was made at the Association's Opening Session, a highlight of OAR's 106th Annual Convention, Sept. 19-21, in Cleveland. Livingston, who was nominated by the Medina County Board of REALTORS, is associated with Keller Williams Greater Cleveland West.
The Excellence in Community Service Award is presented to an individual REALTOR who has shown exemplary commitment to community service.
Livingston has been licensed real estate agent for 16 years and a member of the Medina County Board of REALTORS since 2010. He has served on the Legislative Committee.
A veteran of the U.S. Marine Corps, Livingston spent six years as a Reconnaissance Marine. He joined the U.S. Army Reserve and served in Iraq and Afghanistan. He's also a member of the VFW Medina Post -- 5137.
A member of the Medina Chamber of Commerce and Main Street Medina, he and his wife coordinated a social media event and held a turkey drive on the Medina Square. Their efforts were instrumental in assisting the Feeding Medina County Turkey Drive so that 200 families were provided with turkeys.
Livingston is project manager for Feeding Medina County's Fist-to-Five Work Group that volunteered to design and remodel the Feeding Medina County office space by procuring materials and furniture, gutting and re configuring the offices, installing new floors, ceiling ,walls, electrical outlets and a kitchenette. He also worked with other community leaders to maintain local sponsorships for more than $6,000 annually for capital improvements by designing advertising space with the office.
He has coordinated with Veterans organizations within the community to identify Veterans who may need assistance with home maintenance issues. Livingston oversaw projects at 4 Veteran homes at no cost to the Veteran by coordinating and determining the required resources. He is Founder and Co-Director of Heroes Home Project, an organization that provides financial assistance to local community heroes when unforeseen critical life changing scenarios affect them or their families. Heroes Home Project offers housing assistance to Veterans, First Responders and Educators in their time of need.
He's a member of Leadership Medina County Class of 2016. Additionally, he was an Assistant Den and Den Leader for five years of Cub Scout Pack 3501.
Livingston, a Florida native, has a degree in business administration. He has resided in Medina for more than a decade with his wife and three children.
The Ohio Association of REALTORS, with more than 30,000 members, is the largest professional trade association in Ohio.