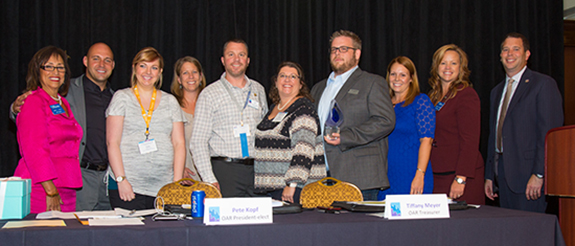 Akron Cleveland awarded first-ever Young Professionals Network of the Year
Oct 13, 2016
Photo (from left): OAR President Sara Calo, Mike Bankowski, Kady Overton, Tara Kleckner, Joe Dirk, Jacqui Bowman, Drew Gaebelein, Gretchen McKay, OAR Treasurer Tiffany Meyer and OAR President-elect Pete Kopf.
Congratulations to the Akron Cleveland Association of REALTORS (ACAR), the first-ever recipient of OAR's Young Professionals Network (YPN) of the Year Award. The award was presented at the Directors Meeting, held in conjunction with OAR's Annual Convention, last month in Cleveland.
The 2016 Association's network leaders had a vision for how to make ACAR's network more relevant to newer members.
First, the group implemented regional monthly meet-ups. The meet-ups were designed to give newer agents an opportunity to meet other agents in their area. These meet-ups were so successful that the Association had to pause membership on the actual YPN Committee, and encourage members to follow the YP Network on Facebook and ACAR's site.
The YPN Committee also recommended the establishment of a new award recognizing Young Professionals who are making a great impact on the industry and their community.
Further, the Association's Network supported the association's charity and community service projects through donations and service hours. A few of the projects include: volunteering at the Greater Cleveland and Akron Canton Regional Food Banks; Collecting boxes and goods for the Domestic Abuse and Child Advocacy Center, as well as the Blue Star Mothers organization which sends care packages to local military men and women serving abroad.
Finally, the Network's most unique and successful event was its RPAC Casino Night. The Network hosts a RPAC fundraiser annually and, last summer, its casino night was one of the most successful in the group's history raising more than $13,000 for RPAC.