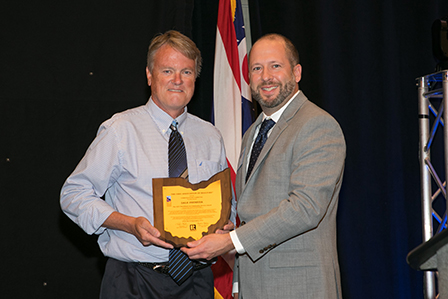 Dale Frymyer honored as Ohio REALTORS 2017 'Community Service' recipient
Oct 2, 2017
(From left) REALTOR Dale Frymyer of Indian Lake is presented with one of the Ohio REALTORS top awards -- the 2017 Excellence in Community Service Award -- by Mike Valerino, chariman of the Communications Committee.
REALTOR Dale Frymyer of Indian Lake was honored with the Ohio REALTORS 2017 Excellence in Community Service Award.
The presentation was made at the organization's Board of Directors meeting, a highlight of the 107th Annual Convention & EXPO, Sept. 24-27, in Cincinnati. Frymyer, who was nominated by the Midwestern Ohio Association of REALTORS, is associated with Choice Properties Real Estate.
The Excellence in Community Service Award is presented to an individual REALTOR who has shown exemplary commitment to community service. Frymyer was selected as the recipient for his countless contributions to improving the Indian Lake community.
Frymyer is actively involved with the local Chamber of Commerce. The staff knows if they call him, he will be there; whether it be to paint the office, sweep the floor, deliver flares, Lake Guides, put up signs and much more.
He loves helping at the State Park. Everything from picking up trash, trimming trees, painting the commissary or the bridge at Oldfield Beach, putting up string on the restroom walls to keep the birds out, adding mulch and bushes in the flower beds, and just about whatever needs to be done to make the beach and picnic area clean and inviting for local residents and visitors.
Under his own initiative -- and with the blessing of the Indian Lake Youth Soccer Program -- Frymyer took it upon himself to load up all the soccer goals, take them home, have them sandblasted and repainted. He also made a HUGE "Laker" billboard to display at the local soccer fields.
Frymyer also volunteers each week at the Food Pantry. On rainy days, he puts up a tent for the workers and people receiving food items. Often, he has helped those receiving the food to get back home because they don't have transportation.
A member of the Indian Lake Development Corp. , Frymyer recently took on the Memorial Tree project. He has located more than 600 memorial trees, taking photographs and sending letters to those who have purchased trees. He helped design the memorial plaque for the trees. He is working to replace the trees no longer viable due to disease, vandalism or have been removed as a result of weather.
Frymyer has been involved in Habitat for Humanity for a number of years. He has served on the Board of Directors and is currently President. His time with Habitat encompasses everything from being the meeting chair to driving out to pick up items being donated for Habitat's ReStore.
He also volunteers in his neighborhood, acting as President of the Avondale Homeowners Association. He organizes neighborhood events and helps address neighbor's concerns. Through all his volunteering in the community, Frymyer has been honored as a Honda Hero resulting in Honda donating to various charities in his name.
Some people volunteer for projects or a cause because of their beliefs in that effort. Some people choose to do one-time, done in a day volunteer activities. Both kinds of people are very valuable in affecting change in our community. Then there are the people who do both -- volunteer for a cause, one-day activities and ongoing efforts. Many community volunteers walking among us who do not brag about their work -- they just keep working at their project.
Most of these volunteers do not give a second thought about taking up a task, big or small -- fun or unpleasant -- and doing what needs to be done; quietly bringing about the subtle changes in our community that many may not even see every day but do affect individuals, families or the overall community in the most monumental ways. This is the volunteer philosophy of Dale Frymyer.
The Ohio REALTORS, with more than 31,000 members, is the largest professional trade association in Ohio.