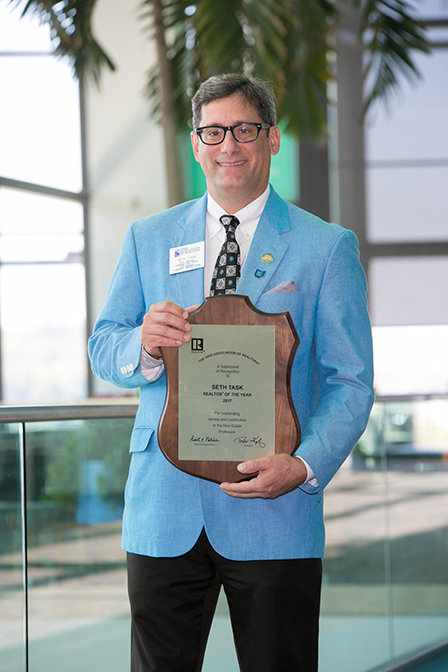 Seth Task receives Ohio's 2017 'REALTOR of the Year' award
Oct 2, 2017
REALTOR Seth Task, of Cleveland, was honored as the Ohio REALTORS 2017 "REALTOR of the Year."
The announcement of Task's selection was made at the Ohio REALTORS 107th Annual Convention & EXPO, Sept. 24-27, in Cincinnati.
Task was nominated by the Akron Cleveland Association of REALTORS and owns and operates The Task Team at Berkshire Hathaway HomeServices Professional Realty and has been a REALTOR since 2005.
Judging of the "REALTOR of the Year" award is based on professional achievements, local REALTOR Board/Association activities, service to the Ohio and National Association of REALTORS, as well as business and education experience and civic activities.
Task has served as member and in leadership on a variety of Akron Cleveland Association of REALTOR Committees, including: Young Professionals Network, Finance, RPAC Trustee, Grievance, and Strategic Planning, among others. He also served on the Merger Committees and related Task Forces, 2012-2016.
On the state level, Task has served as a member of the Board of Directors since 2011. He has served as a member and in leadership for a number of the organization's committees and task forces, including: Executive, Enlarged Legislative, Legislative Steering, Local Government, Appraisal, Young Professionals Network, Finance, MLS, Convention, Professional Development, Issues Mobilization and Communications Audit.
Task has served as a chairman of the National Association of REALTORS' (NAR) Federal Finance & Housing Policy Committee. Additionally, he has served on NAR's Public Policy Coordinating Committee, Conventional Financing & Policy Committee and Public Policy Advocacy Group. He earned the Green and Certified Residential Specialist (CRS) professional designations from NAR. Task is a 2015 NAR Leadership Academy graduate. He contributes to RPAC at the Golden R Major Investor level and as a President's Circle member.
Task has appeared before the Federal Reserve Bank, FHFA and the Department of Housing and Urban Development to provide expert testimony.
Civically, he has been involved with several Chambers of Commerce, Board of Directors of Neighborhood Housing Services of Greater Cleveland, Forest City Masonic Lodge Brother since 1995, and a room parent at Ganon Gil Early Learning Center, among others.
The Ohio REALTORS, with more than 31,000 members, is the largest professional trade association in Ohio.