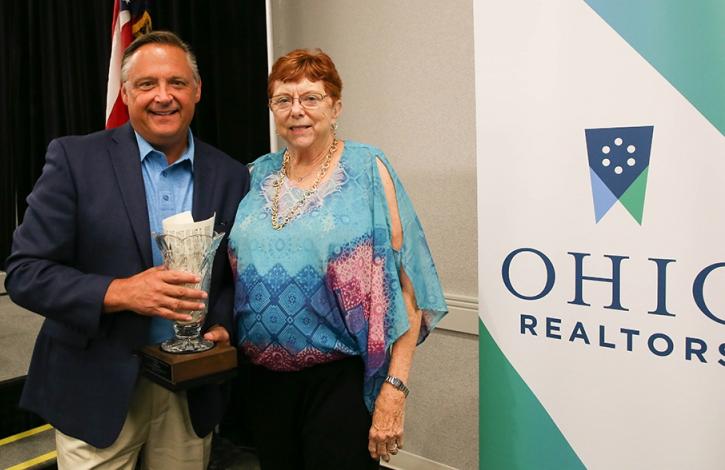 Darlene Breen honored with 'Lifetime Achievement' award
Sep 21, 2018
Darlene Breen (right) is congratulated by fellow Ohio REALTORS Past President Greg Hrabcak following the presentation of the organization's prestigious Vincent T. Aveni Lifetime Achievement Award at the Ohio REALTORS Annual Convention & Expo.
REALTOR Darlene B. Breen, of Dayton, was honored with the Ohio REALTORS 2018 Vincent T. Aveni Lifetime Achievement Award.
Breen is associated with Irongate REALTORS, Bellbrook. She is a Past President of both Ohio REALTORS and the Dayton REALTORS.
The Vincent T. Aveni Lifetime Achievement Award recognizes those Past Presidents of the Ohio REALTORS that provided exemplary service to the organization. Aveni served as President of the organization in 1980 and the award was created after his passing in 2006.
The Award, created by the Ohio REALTORS Past Presidents Committee, is bestowed upon a Past President who has demonstrated a continued commitment to the same values and passion for excellence that Aveni displayed throughout his life.
On the state level, Breen served as President of the Ohio REALTORS in 2006.
Additionally, she has served as a National Association of REALTORS (NAR) Director and chaired numerous committees, forums and task forces for Ohio REALTORS. She contributed to the REALTORS Political Action Committee (RPAC) as a Golden R President's Circle member for many years and was inducted into the NAR RPAC Hall of Fame in 2009.
"There could not be a more fitting honoree," said Ohio REALTORS President Tiffany Meyer. "Throughout her career, Darlene Breen has provided unparalleled leadership and vision to the advancement of the real estate profession, as well as finding time to make her community a better place to live and work."
Previous recipients of the Vincent T. Aveni Lifetime Achievement Award include: Vince Aveni, 2007; Paul Everson, 2008; Harley Rouda, 2009; Owen Hall, 2010; George Smith, 2011; Steve Brown, 2012; Barbara Lach, 2013; Terry Hankner, 2014; John Lynch, 2015; Steve Casper, 2016; and Bonnie Boyd, 2017.