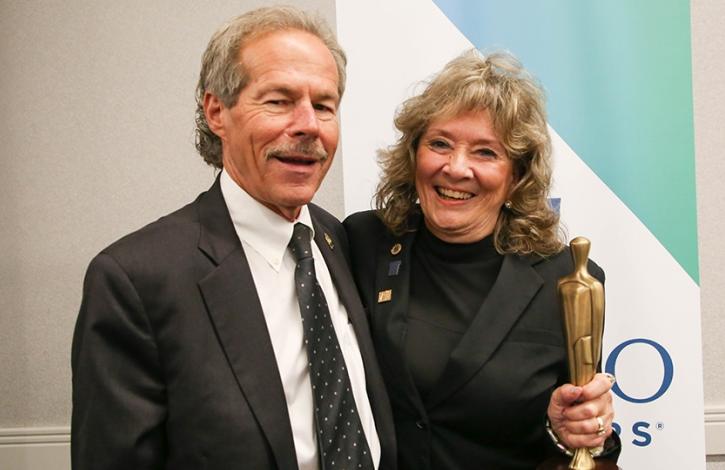 REALTOR Darlene Mink-Crouse honored with Ohio REALTORS 2018 'Distinguished Service Award'
Sep 24, 2018
(From left) Ohio REALTORS Chief Executive Officer Bob Fletcher congratulates REALTOR Darlene Mink-Crouse for being the 2018 recipient of the organization's Distinguished Service Award for her exemplary service to the profession.
REALTOR Darlene Mink-Crouse from the Warren Area Board of REALTORS was named the recipient of the Ohio REALTORS' 2018 "Distinguished Service Award."
The presentation of the award was made at the Ohio REALTORS Board of Directors meeting during it 108th Annual Convention & EXPO, Sept. 16-18, in Columbus.
Ohio REALTORS created the "Distinguished Service Award" to recognize long-standing members who have demonstrated an uncommon commitment to the goals and purposes of the REALTOR association at all levels. Those eligible for the award must have been active members of the Association for 25 years and cannot have served as president of the organization.
Mink-Crouse, licensed since 1975, has served as president of the Warren Area Board in 1990, 2000 and presently in 2018. She was named the Board's "REALTOR of the Year" in 1980, REALTOR/Broker of the Year in 1991 and again 2001. She has served on its Board of Director numerous times over the past four decades.
Additionally, she has been a real estate instructor at many events at the Warren Area Board, teaching core law, equal opportunity, ethics, landlord-tenant obligations, advanced real estate financing, the content buyer, competitive listings, and real estate taxes, among others.
For Ohio REALTORS, Mink-Crouse has been active for more than 40 years and has chaired and served on a variety of committees, including: Communications, Community Development, Equal Opportunity & Diversity, Legislative, Professional Standards, Housing Needs, and Research, among others. Mink-Crouse served as a District Vice President from 1996-1997.
Nationally, Mink-Crouse was recently awarded the National Association of REALTORS (NAR) Emeritus Award for 40 years of service. She has attended most the NAR legislative meetings in Washington, D.C. and national conventions. She's active in the Legislative, REALTORS Political Action Committee (RPAC), Professional Standards and Professional Development area.
She has been an annual contributor to RPAC at the Ohio (minimum $200 annually) and Diamond Club (minimum $500 annually) member status, and also played an active role in helping the Warren Area Board win the large board category for fundraising excellence.
Mink-Crouse holds the GRI designation.
The Ohio REALTORS, with more than 33,000 members, is the largest professional trade association in Ohio.