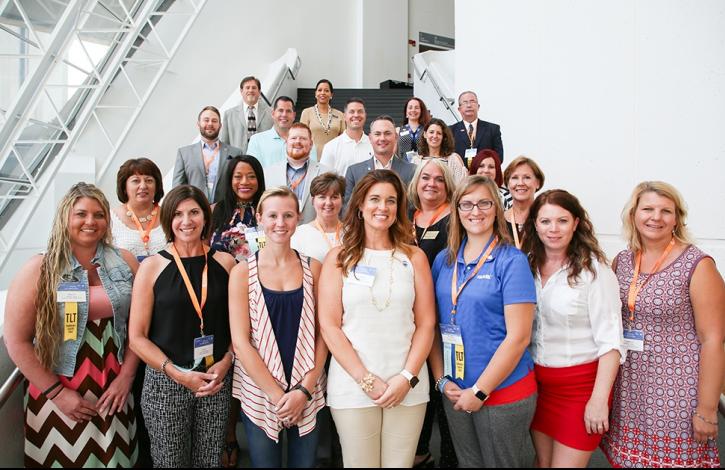 Ohio REALTORS celebrates its 2018 'Tomorrow's Leaders Today' class
Sep 26, 2018
Congratulations to the 25 Ohio REALTORS that participated in the 2018 "Tomorrow's Leaders Today" program during the Annual Convention & EXPO, Sept. 16-18, in Columbus.
The TLT program, the brainchild of Past President George Smith in 2000, allows Local Boards/Associations to identify a rising industry leader and provides a free registration to attend the Ohio REALTORS Annual Convention. Ohio REALTORS hosts special programs -- including a welcome luncheon -- to expose the participants to the organization and encourage continued involvement.
"Tomorrow's Leaders Today is a wonderful program that allows our future leaders to gain first-hand insight of Ohio's REALTOR organization and how they can make a meaningful difference in the future direction of their chosen profession," said Ohio REALTORS President Tiffany Meyer, a member of the 2002 TLT class. "My experience provided the inspiration to continue being involved in Ohio REALTORS and I'm confident that the members of this year's class are equally eager to share their talents in the months and years ahead."
The 2018 TLT class includes REALTORS from 22 Local Boards/Associations:
Akron Cleveland Area Board -- Mark Vittardi
Ashland Board -- Megan Holland
Ashtabula County Board -- Debra Woodworth
Butler-Warren Association -- Tom Trosper
Cincinnati Area Board -- Jamie Mick
Columbus REALTORS -- Robert Pemberton & Ian Thickstun
Dayton REALTORS -- Shannon Jackson
Delaware County Board -- April Ann Scowden
East Central Association -- Becky McNeely
Firelands Association -- David Tully
Heartland Board -- Blaine Wells
Highland County Board -- Alex Butler
Medina County Board -- Maria Dumitru-Brito & Kimi Singleton
Midwestern Ohio Association -- Helena Berton
Portage County Association -- Janet Dauber
Scioto Valley Association -- Kacie Lytle
Springfield Board -- Lori Houseman
Stark County Association -- Stephen Neisel
Toledo Regional Association -- Angela Decker & Tyler Lipinski
Warren Area Board -- Christine McCann
Wayne Holmes Association -- Melissa Sanford
West Central Association -- Lauren Honigford
Youngstown Columbiana Association -- Cynthia Gerfert
The Ohio REALTORS, with more than 33,000 members, is the largest professional trade association in Ohio.