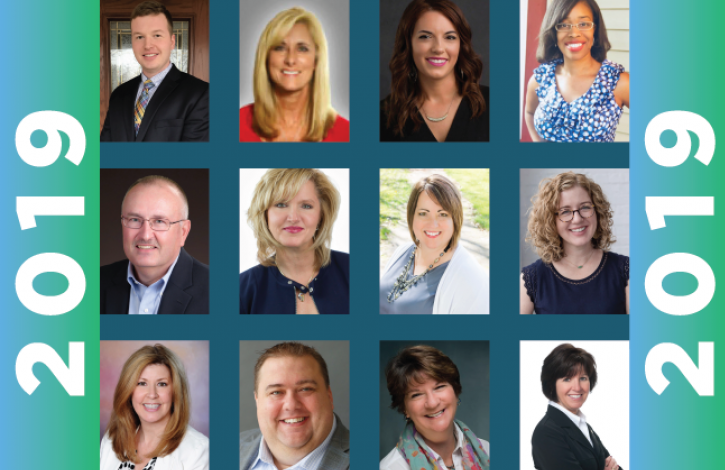 Meet the 2019 Ohio REALTORS Leadership Academy Class
Nov 16, 2018
The Ohio REALTORS 2019 Leadership Academy class: (top row, from left) Grant Bake, Ann Blair, Rebecca Donatelli, Brittany Eddy; (middle row, from left) Kent Hilty, Christina Hivnor, Elyse Nedrow, Erin Ogden Oxender; (bottom row, from left) Bobi Schultz, Shaun Simpson, Sue Van Woerkom, Elaine Wehri
By Tiffany Meyer, Ohio REALTORS President
The Ohio REALTOR is pleased to announce the 12-member 2019 Leadership Academy class. These REALTORS are poised to embark on an intense self-discovery program focused on goal-setting, communication, business relationships and personal growth. Congratulations to:
Grant Bake, East Central Association of REALTORS
Top Industry Challenge: "A challenge facing the real estate profession currently is a saturated market of REALTORS. I feel that this profession when done right is a full time career, and a large amount of effort is needed to do this job correctly. There are so many REALTORS out there to call. As soon as someone calls about a house there is an abundance of REALTORS calling the buyer to show the property. It's hard to say whether or not the REALTOR servicing the buyer will do his best job and look out for the buyer, or only look out for himself. I know that the best agents will always be at the top due to the good service they provide. However I fear that the average agents that do an average job, can reflect badly on the real estate industry as a whole."
Top Ohio REALTORS Issue: "I think a challenge facing REALTORS today is a lack of motivation. Our company is only three years old, but we quickly took over our current market due to the lack of motivation in the other agencies. There is plenty of work out there for us to do, so the important thing is that we do it. I tell my agents all the time, 'What is in your hands?,' meaning, sell the listing you have and then go and get more. I notice that many agents will want more listings and more buyers, and then lack in the service they provide. I like to do my best work for my current clients, and then go after more business."
Ann Blair, Lake & Geauga Area Association of REALTORS
Top Industry Challenge: "With the Internet competition on the rise it is vital we keep open and consistent lines of communication with our database and clients. As our lives are all busy and technology is so easy, the human factor is so important now. It is still what most people want during the transaction."
Top Ohio REALTORS Issue: "Affordability has become an issue with both the young home buyers as well as the the elderly. The younger generation faces the low supply of affordable homes. The elder generation, in many cases do not want to move and yet cannot afford the upkeep and repairs on their current home."
Rebecca Donatelli, Lake & Geauga Area Association of REALTORS
Top Industry Challenge: "The general population having a false understanding of our worth and what we do. A common hurdle I encounter with clients, specifically at listing appointments, is sellers asking me to 'discount' my commission for them. While I understand every penny counts, I've found that most sellers tend to lack the understanding of what we do (or should be doing as unfortunately many REALTORS fail to do). A common misconception tends to be they think we slap their listing on the MLS, maybe do one open house, and sit back waiting for an offer. The other big misconception I tend to see quite frequently is others wanting to get into the business of real estate based off of what they see on social media, or have 'heard.'"
Top Ohio REALTORS Issue: "Getting REALTORS to understand the benefit of investing in RPAC."
Brittany Eddy, Columbus REALTORS
Top Industry Challenge: "Affordable housing. When affordability is impacted within our profession, it impacts drastically the economics of our local, state and national agendas. Housing has always been a main indicator of how well the country and society in general is operating -- and therefore, as housing goes, so goes the nation and the industry."
Top Ohio REALTORS Issue: "Affordable housing. Central Ohio is becoming widely known across the nation and it is an honor and a great time to be impacting real estate in our city, however, if we are not careful to put more requirements on corporations and big investment firms that are receiving massive tax abatements, we may create communities that project the opposite of thriving neighboroods that we are seeking."
Kent Hilty, Heartland Board of REALTORS
Top Industry Challenge and Top Ohio REALTORS Issue: "Proper education and training of the influx of new real estate agents."
Elyse Nedrow, Akron Cleveland Associaiton of REALTORS
Top Industry Challenge: "Lack of training and education of licensees in regard to being a fiduciary to the client and a professional to their colleague in the real estate transaction."
Top Ohio REALTORS Issue: "Affordable housing. Finding an affordable home for a first time homebuyer can be difficult. Low inventory pushes the price of a decent first home out of the grasp of so many."
Erin Ogden Oxender, Columbus REALTORS
Top Industry Challenge: " Work life balance. One of my greatest challenges as a REALTOR is balancing my work and family life. I have learned that the busier I am, the more organized I must be in order to be effective."
Top Ohio REALTORS Issue: "Real estate advertising sites. The REALTOR who knows the nuances of the local market, the neighbor and also the volunteers in the community will always be more valuable than the technology website driven by advertising dollars. As consumers, we have access to so much information from the Internet, but often, on these consumer sites, the data is inaccurate or outdated. The algorithms that create consumer valuations are often not correct, causing confusion or mistrust. While I see the value in many of the consumer advertising sites, the experienced professional agent remains an important linchpin in a successful real estate transaction long after the deal is closed."
Bobi Schultz, Portage County Association of REALTORS & Akron Cleveland Association of REALTORS
Top Industry Challenge: "Artifical intelligence is a real threat in today's world. The fast pace of the information and ability could negate the interaction of a human being."
Top Ohio REALTORS Issue: "Defending the importance of an ethical professional agent to buy and sell real estate. The information techology misleads the consumer into thinking they are the expert without the education and experience required to make the most informed decisions."
Shaun Simpson, Columbus REALTORS
Top Industry Challenge: "Safety. With the increase in leads and on-demand society many of our agents are putting themselves in situations that are leaving our client's funds, our client's homes and our agents themselves vulnerable."
Top Ohio REALTORS Issue: "Safety is our biggest issue. If we do not do something to provide avenues for our agent security we are going to be sitting around a table after something happens and we will wonder why we didn't do anything."
Sue Van Woerkom, Columbus REALTORS
Top Industry Challenge: "Owning our information. Currently the way (some) consumer websites share our listings, any agent's name can be next to the listed property. Somehow we need to control our information and remain the experts in our field."
Top Ohio REALTORS Issue: "Professionalism -- some are very unscrupulous, messy or down right dishonest."
Elaine Wehri, West Central Association of REALTORS
Top Industry Challenge: "Teaching the newcomeers that real estate doens't always pad your pocket. In other words, you may lose five deals in a week -- but I encourage them to work out the details as far as negotiating terms or showing them another property rather than walking away."
Top Ohio REALTORS Issue: "Self-protection -- making sure you don't get raped...know self-defense."