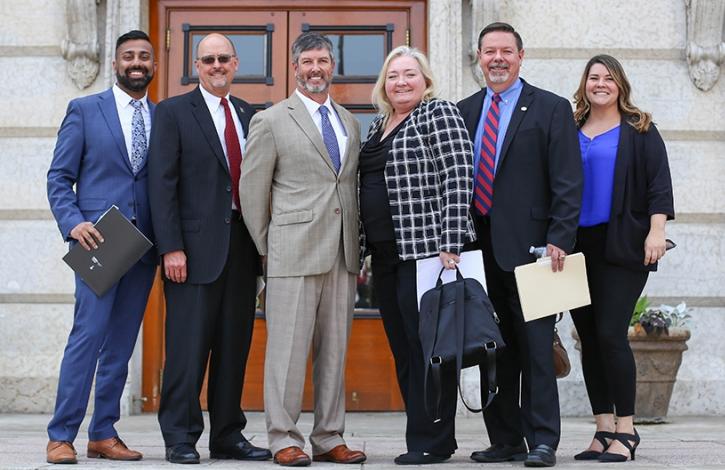 Ohio REALTORS testify in support of the First Time Homebuyer Savings Act
Jun 5, 2019
Ohio REALTORS testified at the Ohio Statehouse in support of Senate Bill 139, the First Time Homebuyer Savings Act on June 4. (From left) Kunal Patel, John Myers, Scott Williams, Anjanette Frye, Greg Blatt and Sarah Martie.
By Spencer Gross, Ohio REALTORS Director of Local Government Affairs
Yesterday, Ohio REALTORS testified before the Ohio Senate Ways & Means Committee to urge passage of Senate Bill 139, the First Time Homebuyer Savings Act. Ohio REALTORS President Anjanette "AJ" Frye and REALTORS Kunal Patel, Greg Blatt, John Myers, and Sarah Martie each shared their professional expertise and compelling arguments for the creation of First Time Homebuyer Savings Account in Ohio.
Senate Bill 139 would authorize a first-time homebuyer to open a tax-deductible savings account in which a person can deposit money with the goal of using it toward a down payment of a home. A "first-time homebuyer" is defined as someone who has not purchase or owned a home within the past three years. Although a person can put as much money as they want into the savings account, only the interest earned and capital are deductible with annual limits of $5,000 for single filers, and $10,000 for joint filers. There's a lifetime deductible cap of $50,000 for single filers and $100,000 for joint filers. The money must be used toward the purchase of a home including closing costs and bank fees within 15 years or a 10% penalty may apply. Anyone can open an account, and an account holder can have an account for themselves or for another person, such as a child, or grandchild.
As the bill moves through the legislative process, Ohio REALTORS will be sure to update you.