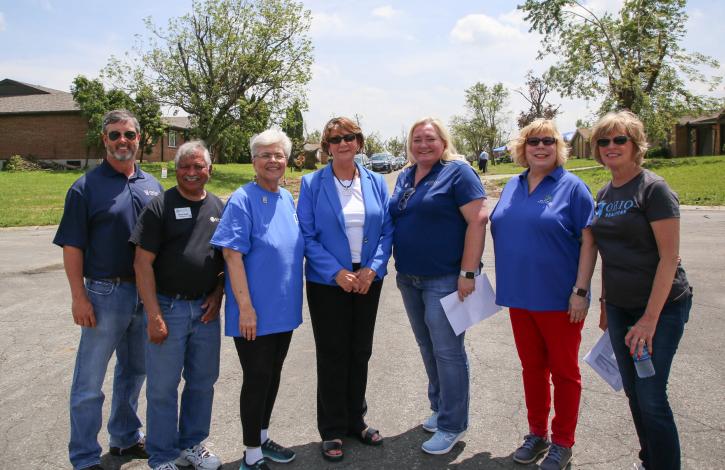 Ohio REALTORS Housing Disaster Relief Fund grows to nearly $530K; more than $282K already sent to tornado victims
Jul 18, 2019
(From left) Ohio REALTORS Chief Executive Officer Scott Williams, Dayton REALTORS President-elect Sham Reddy, Dayton REALTORS President Jan Leverett, Midwestern Ohio Board Executive Officer Brenda Blair, Ohio REALTORS President Anjanette "AJ" Frye, Dayton REALTORS Acting Executive Officer Jennifer Zeller, and Ohio REALTORS President-elect Chris Reese in Trotwood following the organization's June 6 press conference announcing the launch of the Ohio REALTORS Housing Disaster Relief Fund to assist tornado victims.
By Scott Williams, Ohio REALTORS Chief Executive Officer
The Ohio REALTORS Housing Disaster Relief Fund was notified yesterday that it was approved for an additional round of funding, pushing the organization's campaign to help rebuild the communities affected by the tornadoes of May 27 to nearly $530,000.
The fund, which was launched on June 6, provides up to $1,000 in direct mortgage or rent payments to qualified applicants whose home or apartment were damaged by the tornadoes. To date more than $282,000 has been provided to 410 tornado victims.
Recipients of the Ohio REALTORS Housing Distaster Relief Fund are extremely grateful for the assistance at a time of need:
From a Dayton resident -- "You guys have been a great help. And once I'm back to where I was; I would like to donate money to the fund you have that helped me in this time of need. Thank you again and I hope you have a blessed day."
From a Dayton resident -- "I received your check yesterday for my mortgage payment. I am humbled and appreciative to your organization for this donation. This has been a very trying time for us and you stepped in to help in such a tremendous way. I have lived in Ohio all my life and I wouldn't trade the genuine spirit of care and concern that is shown to residents, especially in a state of emergency. Your generosity toward my family and our community will never be forgotten."
From a Dayton resident -- "Thank you so much for all your help! As a young family you're helping us in so many ways!"
From a Beavercreek resident -- "Thank you for the relief check in response to the Memorial Day tornadoes that impacted my family and home. Your gift has made a great impact on us."
The National Association of REALTORS, through its REALTORS Relief Fund, approved an additional $200,000 grant to relief effort, bringing its overall commitment to the Ohio REALTORS Housing Disaster Relief Fund to a remarkable $500,000. Additionally, we've recieved upwards of $30,000 in direct donations from individual REALTORS and Local Boards/Associations to the Ohio REALTORS Housing Disaster Relief Fund. Special thanks to the following Local Boards/MLS for their generous support to the relief effort:
Beaver Creek Association
Butler-Warren Association
Cincinnati Area Board
Columbus REALTORS
Dayton REALTORS
Delaware County Board
Knox County Board
Medina County Board
Midwestern Association
Springfield Board
Toledo Regional Board
Wayne-Holmes Board
WRIST (Western Regional Information Systems & Technology)
Youngstown Columbiana Association
Additionally, the following individual REALTORS and staff members from our Local Board/Associations and Ohio REALTORS have made donations to our relief fund (listed by Board/Association):
(Akron Cleveland Association) Cyndi Kane, Sandy Naragon

(Beaver Creek Association) Ronald Bryer, Linda Courtney, Dale Meller

(Butler-Warren Association) Brad Knapp

(Cincinnati Area Board) Dan Aug, Marc Grafton, Sheila Holmes-Howard, Karen Lampert Pizzimenti, Lori Ryan

(Columbus REALTORS) Stan Collins, Michelle Groff, Key Properties Realty Johnstown, Jeannine Marie Kuhns, Barbara Lach, Sue Lusk-Gleich, Chris Reese, Mary Katherine Sunderman

(Dayton REALTORS) Anjanette "AJ" Frye, Kara Barbara Markworth

(Lake & Geauga Area Association) Sheryl Stanley

(Midwestern Ohio Association) Angela Ann Szaruga

(Ohio REALTORS) Carrie Arblaster, Nikki Arnold, Jenna Bragg, Shauna Brown, Annette Cole, Stacey Dawson, Debbie Dillon, Nikki Gasbarro, Carl Horst, Robin Jennings, Garry Moon, Cherie Murray, Peg Ritenour, Sharon Sample, Mary Ann Sullivan, Beth Wanless, Scott Williams

(Wayne-Holmes Association) Jennifer Wiles

(Non-member) Felicia Billoups, Dawn Fecanin, Mary Lebeau, Ekizabeth Pham
Ohio's REALTOR community prides itself on helping to make home happen and on helping to build communities. We are grateful to NAR, along with our partners at Dayton REALTORS and the Midwestern Ohio Association of REALTORS, for their assistance and support in helping those affected by the storms. CLICK HERE if you would like to make a tax-deductible donation to our Ohio REALTORS Housing Disaster Relief Fund.
If you have a family member, friend or neighbor that was adversely affected, encourage them to CLICK HERE for complete details on our relief fund and to access the application.