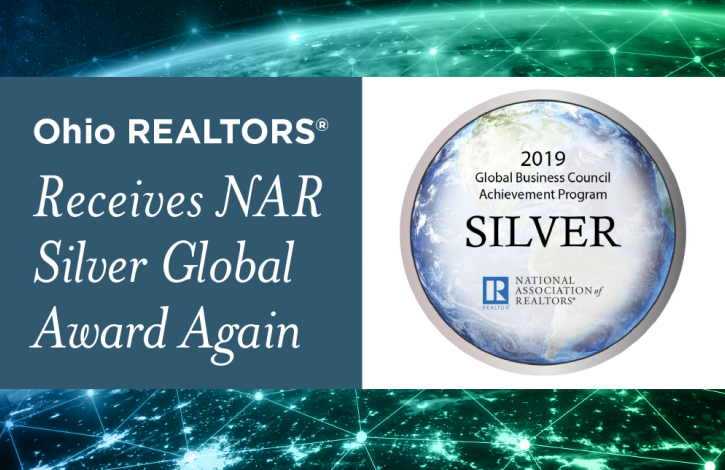 Ohio's Global Business Alliance receives national recognition for second consecutive year
Oct 28, 2019
By Carrie Arblaster, Ohio REALTORS Assistant Vice President of External Affairs
The Ohio REALTORS Global Business Alliance has been classified as a Silver Council by the National Association of REALTORS for the second straight year. Our work as a Council will be recognized during 2019 REALTORS Conference & Expo, Nov. 8-11, in San Francisco.
NAR's selection group, comprised of 12 NAR staff from a variety of teams, recognized that Ohio is "making good strides" with our Council and "can see the potential for future growth with the goals you have outlined for 2020."
As a young Council we are incredibly excited to be recognized by NAR two years in a row. The work of the Ohio Global Business Alliance should not be understated, as our Committee members and REALTORS around the state continue in their work to position Ohio REALTORS as the leading voice on international investment and property transactions.
The Ohio REALTORS Global Business Alliance is committed to growing its presence within our membership and throughout the state. If you are interested in working on the Committee or earning your Certified International Property Specialist (CIPS) designation please send me an email for more information.