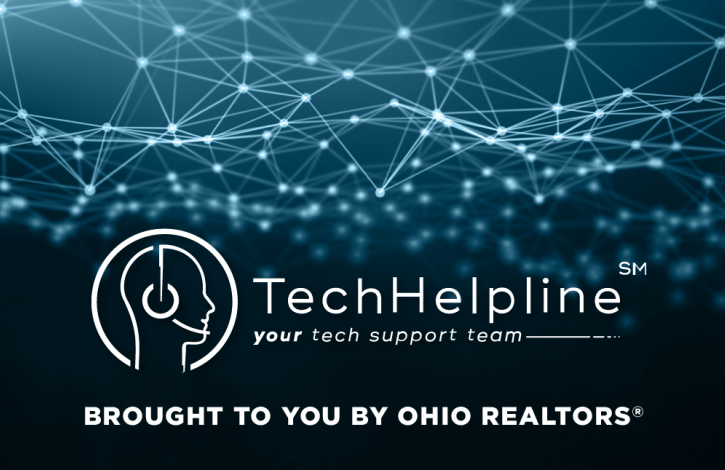 Tapping into your tech support member benefit from Ohio REALTORS Tech Helpline
Jan 6, 2020
What happens when you get a new smartphone and not all of your contacts show up? Or if you start to print out a copy of a new purchase and sales agreement, and the printer won't print, no matter what you try? Or all of a sudden, you notice your laptop is running super slow? Or you just can't connect or stay connected to the Internet?
In today's world, keeping your basic technology working is vital to providing your clients great service. That's why Ohio REALTORS offers Tech Helpline as a standard member service, to make sure you have a basic tech support lifeline if you get stuck using your go-to technology.
Ohio REALTORS Tech Helpline is there for you to make sure that your smartphone is getting email properly, that your laptop is optimized and virus-free, and if your printer doesn't print, you have someone you can contact to help get it fixed quickly.
About Tech Helpline
Tech Helpline was created by Florida Realtors, the second largest state REALTOR association in the U.S. for REALTORS, and is the real estate industry's #1 tech support service. Located in Orlando, Florida, which houses its entire U.S.-based staff, Tech Helpline is available to one in three REALTORS in North America: more than 600,000 REALTORS in the U.S. and Canada have access to Tech Helpline. Its team has nearly 300 years of combined IT experience and provides technology support by phone, chat and email.
This gives you access to a highly experienced, bi-lingual (English and Spanish) technical support staff that has earned a reputation as the "Genius Bar for Real Estate" because they only work with real estate agents and brokers. They understand your business and know how to adjust to your technical skill level, so if you are a novice – or have deep technical experience –- Tech Helpline staff will make you feel right at home.
Don't be afraid to reach out for help
We all know that tech support is only as good as the people on the other side of the connection, whether it be by phone, chat or email. That's where Tech Helpline excels, and why its popularity among MLS, Associations and brokerages is so strong. Tech Helpline has a reputation for providing technical advice that is delivered by warm, friendly, and customer service-focused technicians.
The key to great customer service in tech support, explains Tricia Stamper at Florida REALTORS, who is responsible for Tech Helpline, "is to be a chameleon."
"Some agents are highly tech savvy, and others are on the other side of the spectrum; the Tech Helpline staff is able to figure out the difference and adjust to help each agent or broker fix their problem and not feel bad about calling," she said, adding, "They remove the 'fear' many agents have about calling tech support because Tech Helpline analysts know not to talk down to someone, or over their head. I think most agents would tell you that's a welcome breath of fresh air among tech support experiences."
How to access Tech Helpline
There are three ways you can access your Ohio REALTORS Tech Helpline, anytime Monday-Friday from 9 a.m. to 8 p.m. and Saturday from 9 a.m. -5 p.m., by phone, by online chat, or by email.
By phone: call the Tech Helpline toll-free at 877-562-3160.
By email: send an email to the Tech Helpline at ">.
By Online Chat: you can chat online live with an analyst by going to http://chat.techhelpline.com/ and selecting the big, blue button that reads: "I need Tech Support" for Tech Helpline.
And do you know what the best part is? Tech Helpline services are unlimited for all our members, and there is no extra cost for you all. This is a member benefit for every agent and broker, and there is no limit to the number of calls that you can make.
Tech support for all your basic tech needs
Here are just some of the types of software and hardware issues that you can reach out to Tech Helpline for assistance with:
Operating Systems: Microsoft Windows 10, Vista, 8, 7, upgrades from all versions of Windows 2000 and Mac OS X (10.3 and higher).
Hardware: Smartphones, including iPhones, Android, and Windows; Tablets; Digital Cameras; CD/DVD Drives & Blu Ray; Laptops; Monitors; Network Adaptors; Printers; Scanners; Storage Media; Video Cards and more.
Browsers & Net: Wi-Fi set up; Internet Service Providers; Internet Explorer/Edge; Firefox; Chrome; Safari; Opera; Networking; Shared Files; Shared Printers and more.
Anti-Virus/Protection: Virus removal; AVG AntiVirus; Lavasoft Ad-Aware; McAfee and Norton AntiVirus; Spyware/Adware Intrusion removal and many more.
Software applications: Email such as Outlook, Gmail, Hotmail; Real Estate programs such as Form Simplicity; Financial and Office programs such as Adobe Acrobat, Microsoft Office Products (Word, Excel, PowerPoint, Access, Publisher, Works, Visio); iTunes; Quicken; Quickbooks; Corel Products (WordPerfect, Draw, etc.); Winzip and many more.
PCs and Macs: All major brands, including Apple, Acer, AST, ASUS, Dell, Fujitsu, Gateway, HP, IBM, Lenovo, Sony, IBM, Toshiba, Winbook, clones and many others.
The goal of the Ohio REALTORS Tech Helpline is to help you get back to business when a technical issue arises to let you get back to serving your clients. So when you need their help, be sure to reach out to Tech Helpline.