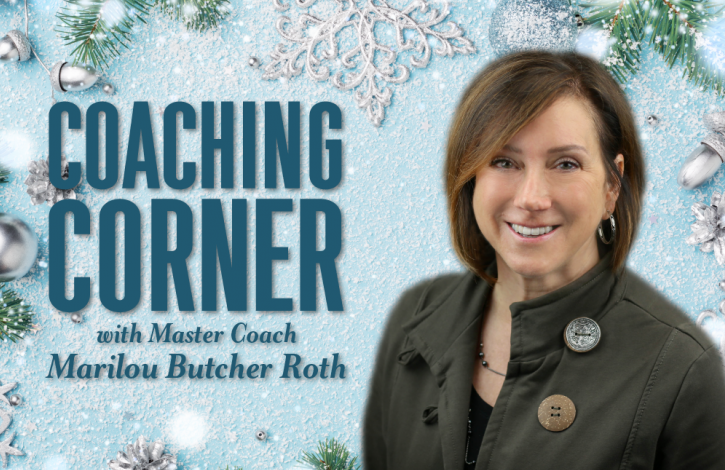 Coaching Corner: Creating the time you desire!
Jan 10, 2020
By Marilou Butcher Roth, Master Coach
One of my favorite classes to teach is "Your Blueprint for Success," as it helps each participant to identify what is truly important to them and how they wish to be spending their most precious time. Recently, I created a "cheat sheet" for the class as a follow up and today I decided that it would be fun to share the guts of that sheet. So...here goes:
First, take some time to identify what actions are truly ABSOLUTES for you -- these are the items that you are either currently doing, or you would like to be doing so that you feel the best about how you are spending your time. Remember these are NOT "shoulds." They are actions that occur each week at some point. Write down both personal and business items.
Next, look at your week and decide where you want to plug these items into the blank "Blueprint" schedule. Some items will be happening Monday through Sunday, others perhaps only one time during the week. Remember, these can be moved around so they best work for you!
At some point during the week -- I prefer Sundays -- get your items into your actual calendar. Each week is different and you may have appointments that suggest your "Blueprint" items won't happen. Not so fast! Perhaps that might be true, but it also may be true that you can condense the activity into a smaller amount of time.
Let's not forget our projects please! Projects are items that have a beginning and end to them -- not the actions that continually reoccur. I would suggest a home project list as well as your business project list. Find a way to organize these projects that most suits your needs AND, get them broken down into small pieces. Once this is done, add "Home Projects" and "Business Projects" to your Blueprint.
Always remember to make this work for you. A good rule of thumb is to pay attention to the items that do not happen (for whatever reason). If you miss something one week, don't worry. If it happens again, ask yourself first if it is on the best day. If that seems OK, you really need to look at your "why" and make sure it truly is an absolute for you.
Have fun with this -- identifying what is truly important to you is incredibly helpful!!!