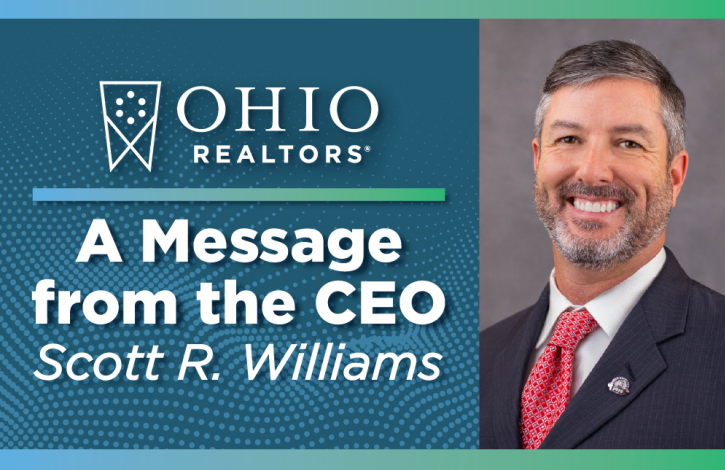 This is not a time for business as usual
Mar 27, 2020
By Scott R. Williams, Ohio REALTORS Chief Executive Officer
These are certainly interesting and challenging times for Ohio's REALTOR community. As you are aware this past weekend Ohio Governor Mike DeWine announced a "Stay at Home" Order effective March 24 through April 7 in an effort to stop the spread of COVID-19.
Under the Order, all business operations generally are required to cease activities at facilities within Ohio unless the business is considered an essential service. Real estate was included as a professional services deemed essential. I encourage you to read our Chief Legal Counsel Peg Ritenour's recent post on the Buzz detailing the impact of the Order on real estate.
We're extremely grateful that members will be able to continue assisting Ohioans that are in need of the services that REALTORS provide. Under this Order we will to assist clients to find necessary housing, close pending residential and commercial transactions and continue to get rental properties leased. These are some of the necessary activities that need to continue while under the Order and why Governor DeWine identified real estate as an essential service.
That said, this is not a time for business as usual. The health of our members, their clients and the public are of the utmost concern. It's imperative that the industry make necessary adjustments to find the proper balance of serving our clients while also protecting society's greater good consistent with the requirements found in the Order.
Each and every agent and brokerage can — and should — make a determination on how to safely operate in the days and weeks ahead. First and foremost, REALTORS and clients should adhere to social distancing guidelines, required essential business practices and proper hygiene at all times.
Ohio REALTORS must understand that the Governor can modify this Order at anytime. If our actions are inconsistent with the intent of the Order, we put in jeopardy our ability to serve our Ohio real estate clients and customers.
We are fortunate that a level of real estate activity can continue, and please stay tuned as more information and clarifications become available. I urge you to visit the special webpage we've created — https://www.ohiorealtors.org/coronavirus-updates-and-information/ — to access the latest updates and news.
Thank you…and please stay well.