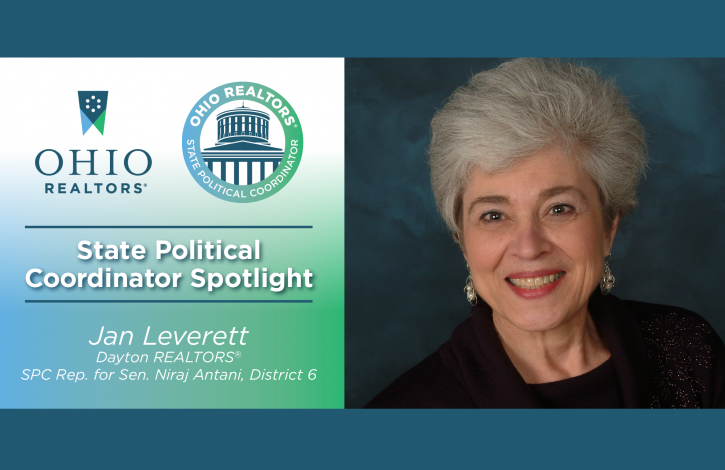 Ohio Political Coordinator Spotlight: Jan Leverett
Apr 15, 2021
Our "Political Coordinator Spotlight" shines on Jan Leverett, who serves as the profession's State Political Coordinator for Sen. Niraj Antani (R- District 6).
Leverett, of Washington Township, has served in a variety of leadership roles on behalf of the real estate industry. She served as President of Dayton REALTORS in 2019. Additionally, she has served on a variety of the Board's Committees since 2006.
At the state level, Leverett serves on the Ohio REALTORS Legislative Committee, Professional Development Committee and Local Government Forum. She has previously served as an Ohio REALTORS Director.
She holds the Senior Real Estate Specialist and Military Relocation Professional designations. She has also been recognized as a Dayton Ambassador. Leverett has invested in RPAC through the years, most recently at the Sterling R (2019) and Ohio Club (2020) levels.
Civically, she has worked with youth through her church for the past 21 years. Additionally, Leverett has been involved with Dayton REALTORS Community Services Committee, serving at a local food bank. She has also donated to Artemis Shelter for Battered Women, Shoes for Shoeless, Bowling for Kids Sake (Big Brothers/Big Sisters) and Toys for Tots.
Since its launch three years ago, Ohio's Political Coordinator program has allowed the organization to pair REALTORS directly with legislators in the Ohio General Assembly. The Coordinators strengthen the industry's voice on issues of concern to the profession. CLICK HERE to learn more about the program and opportunities to get involved.