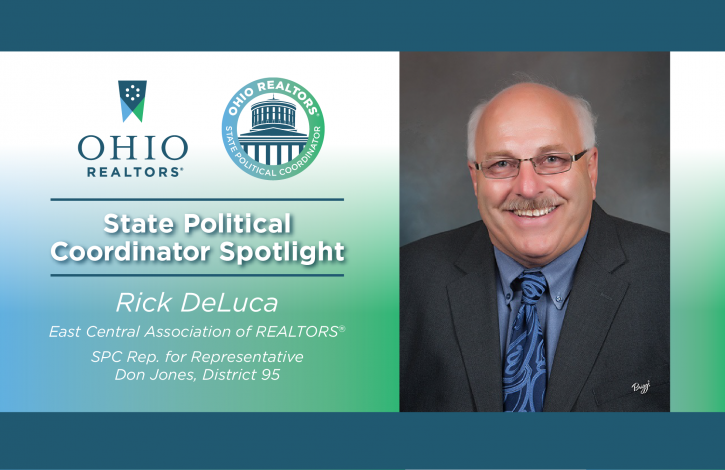 Ohio Political Coordinator Spotlight: Rick DeLuca
Aug 26, 2021
Our "Political Coordinator Spotlight" shines on Rick DeLuca, who serves as the profession's State Political Coordinator for Rep. Don Jones (R- District 95).
DeLuca, of Rayland, is a member of the East Central Association of REALTORS. He has served the real estate industry in a variety of capacities over the past 25 years, including serving as an Ohio REALTORS District Vice President for the past 14 years and serving as President of his local Board in 2004, 2009 and again in 2017. He has been honored as his local Board's REALTOR of the Year six times (2004, 2009, 2014, 2117, 2019 and 2020) and was inducted into its Hall of Fame in 2019.
At the state level, DeLuca has also been a member of the Ohio REALTORS Executive Committee, Enlarged Legislative Committee, Communications Committee, Nominating Committee, Leadership Academy Advisory Board, Strategic Planning Committee, Property Management and Investment Forum, Local Government Forum and Board of Directors. He has earned the Military Relocation Professional (MRP) and the REALTORS Commitment to Excellence (C2EX) certifications offered by the National Association of REALTORS.
Civically, he has served on the Ohio Valley Athletic Conference commissioner board and a 2010 inductee into the Conference Hall of Fame. DeLuca is a coach in the area's youth baseball program.
Since its launch three years ago, Ohio's Political Coordinator program has allowed the organization to pair REALTORS directly with legislators in the Ohio General Assembly. The Coordinators strengthen the industry's voice on issues of concern to the profession. CLICK HERE to learn more about the program and opportunities to get involved.