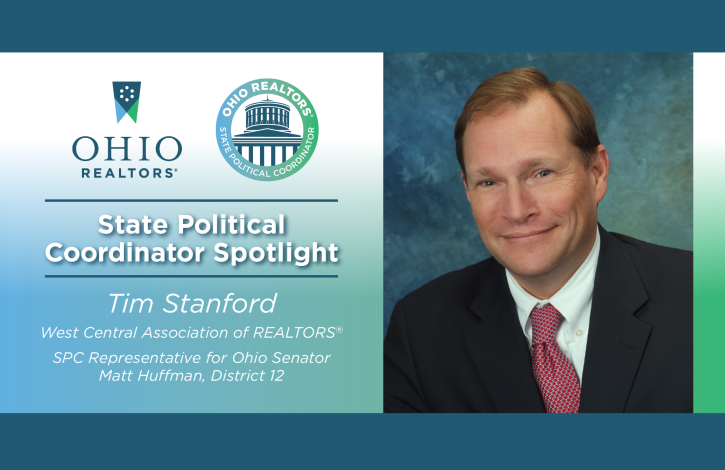 Ohio Political Coordinator Spotlight: Tim Stanford
Dec 1, 2021
Our "Political Coordinator Spotlight" shines on Tim Stanford, who serves as the profession's State Political Coordinator for Senate Majority Leader Matt Huffman (R-District 12).
Stanford, of Lima, is a member of the West Central Associaton of REALTORS. He has served the real estate industry in a variety of capacities, including serving as a member of Ohio REALTORS Executive Committee, Legislative Steering Committee, Issues Mobilization Committee, Local Government Forum, Professional Development Commiteee, Property Management & Investment Forum and Board of Directors. Additionally, Stanford currently serves as an Ohio REALTORS District Vice President for District 2
For the West Central Association, Stanford served as President for three terms (2007, 2006 and 1998) and was twice named its REALTOR of the Year (2019 and 2000). He previously served as Chair of the Association's Legislative, Finance, Fair Housing, Professional Standards Committees and Building Trustees.
His current and previous community involvement includes the Lima Housing Taskforce, Arcaris Oppotunity Zone Committe, Lima Public Library Association, American Sunrise Committee, Allen County Board of Elections, West Central Ohio Chamber of Commerce Board of Directors, Real Lima Symphony Orchestra, Better Business Bureau Board of Directors, Lima Central Catholic Education Foundation Truesses, American Heart Association, and Lima Urban League, among others.
Since its launch three years ago, Ohio's Political Coordinator program has allowed the organization to pair REALTORS directly with legislators in the Ohio General Assembly. Our Political Coordinators strengthen the industry's voice on issues of concern to the profession. To learn more about the program and opportunities to get involved...CLICK HERE.