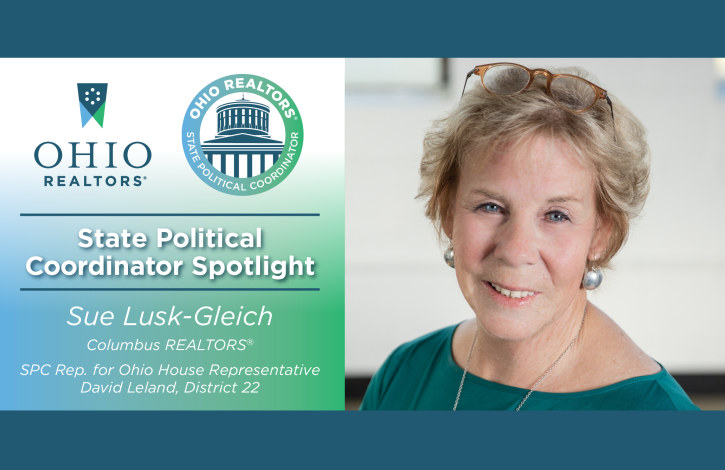 Ohio Political Coordinator Spotlight: Sue Lusk-Gleich
May 17, 2022
Our "Political Coordinator Spotlight" shines on Sue Lusk-Gleich who serves as the profession's State Political Coordinator for Rep. David Leland (D-District 22).
Lusk-Gleich, of Columbus, is a member of Columbus REALTORS. She has served the real estate industry in a variety of capacities, including serving as a member of Ohio REALTORS Board of Directors, Ohio REALTOR Party and Enlarged Legislatie Committee. She co-founded the Ohio REALTORS Leadership Academy. Additionally,Lusk-Gleich is a recipient of three of Ohio REALTORS highest honors -- Distinguished Service Award, Mary L. Pollock Lifetime Achievement Award and Phillip R. Barnes RPAC Achievement Award.
Lusk-Gleich is an inaugral member of the Ohio RPAC Hall of Honor and recently attained National Association of REALTORS' RPAC Hall of Fame at the $75,000 level.
For Columbus REALTORS, Lusk-Gleich served as President in 2010. She was the founder of the Board's Leadership Academy and was a recipient of the Columbus REALTORS Lifetime Achievement Award.
Her current and previous community involvement includes serving as Columbus Special Olympics goal and volleyball coach, being a business buddy for Nationwide Childrens Hospital, the Board of Directors for Furniture Bank of Central Ohio and supporter of Hope Hollow, among others.
Since its launch three years ago, Ohio's Political Coordinator program has allowed the organization to pair REALTORS directly with legislators in the Ohio General Assembly. Our Political Coordinators strengthen the industry's voice on issues of concern to the profession. To learn more about the program and opportunities to get involved...CLICK HERE.