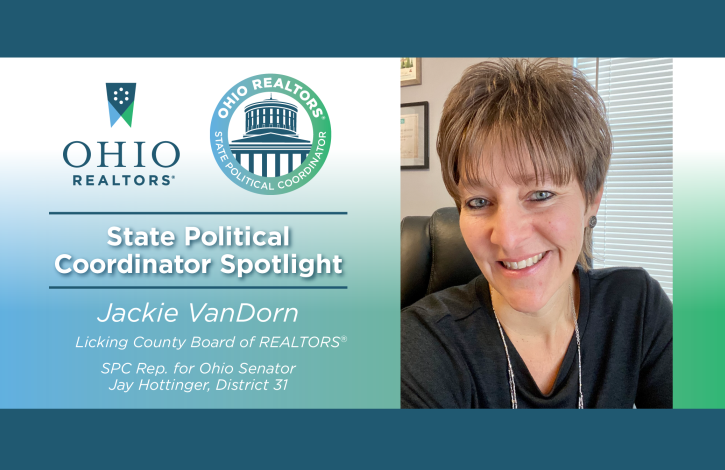 Ohio Political Coordinator Spotlight: Jackie VanDorn
Jun 6, 2022
The Ohio REALTORS "Political Coordinator Spotlight" shines on Jackie VanDorn, who serves as the profession's State Political Coordinator for Sen. Jay Hottinger (R-District 31).
VanDorn, of Newark, is a member of the Licking County Board of REALTORS. She has served the real estate industry in a variety of capacities, including serving as a member of the Ohio REALTORS Board of Directors.
She was selected as the Licking County Board's Broker of the Year in 2006 and served as it's President in 2009 and 2021. She has been a State Political Coordinator since 2019.
Her current and previous community involvement includes volunteering for a variety of community agencies, including the Humane Society, Vertical 196 (which shelters homeless persons) and Licking County Look Up Center (which serves meals).
Since its launch three years ago, Ohio Political Coordinator program has allowed the organization to pair REALTORS directly with legislators in the Ohio General Assembly. Our Political Coordinators strengthen the industry's voice on issues of concern to the profession. To learn more about the program and opportunities to get involved...CLICK HERE.