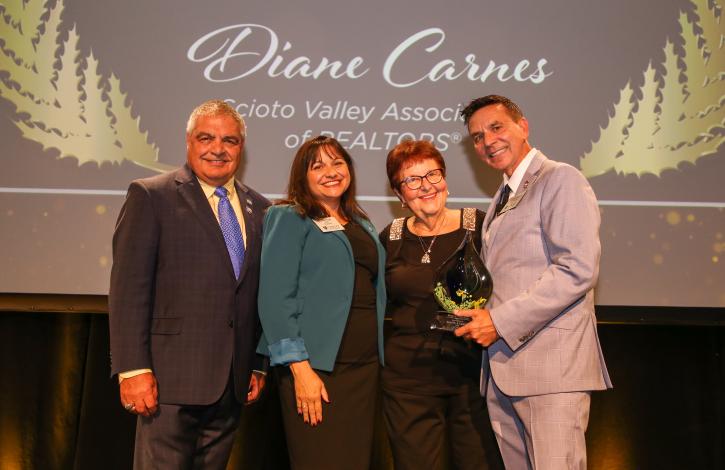 Diane Carnes receives Ohio REALTORS 2022 Mary L. Pollock Lifetime Achievement Award
Sep 26, 2022
From left: Ohio REALTORS President-elect Ralph Mantica, Treasurer Ali Whitley, Ohio REALTORS 2022 Mary L. Pollock Lifetime Achievement Award recipient Diane Carnes, and President John Mangas
REALTOR Diane Carnes, of Chillicothe, was honored with the Ohio REALTORS 2022 Mary L. Pollock Lifetime Achievement award.
The award, now in its fourth year, is presented to a deserving Ohio REALTOR who has gone above and beyond the call of duty on behalf of the profession – someone who performs the hard, necessary work to move the organization forward without seeking the accolade or spotlight.
The announcement of Carnes' selection was made at the Ohio REALTORS 112th Annual Convention & EXPO, in Cleveland, Sept. 18-21.
She has been actively involved in Local Board activities for 50 years and active at Ohio REALTORS for more than 25 years.
She has severed two terms as President of the Scioto Valley Association and has been a Director for numerous years. In addition, she is a two-time Local Board "REALTOR of the Year" winner. Diane has chaired the Board's Nominating, American Home Week, MLS and Public Relations committees.
At the state level, Carnes has served as a member of the Board of Directors since 1993. She has also chaired numerous Ohio REALTORS committees such as Public Relations, Communications, Board Certification, Auction, Issues Mobilization, Long Range Planning, Legislative Steering, Enlarged Legislative and RPAC Trustees.
Diane was the Ohio REALTORS REALTOR of the Year in 1995, has been a recipient of the Ohio REALTORS Good Neighbor Award and has been a Life Member of RPAC since 1998.
"Diane is such a worthy recipient of this prestigious award," said Ohio REALTORS President John Mangas. "She has devoted so much of her time for the advancement of our profession and Ohio's REALTOR community -- serving on and chairing countless committees and task forces, working tirelessly to improve her community and being a long-time supporter of Ohio RPAC."
In addition, Diane has been an active participant in the Ohio Chapter, Women's Council of REALTORS since 1990 and has served numerous terms on City Council. She most recently completed an impressive tenure as a member of the Ohio Real Estate Commission.
Mary Pollock, of St. Paris, was the first recipient of this award in 2019.
The Ohio REALTORS, with more than 37,000 members, is the largest professional trade association in Ohio.