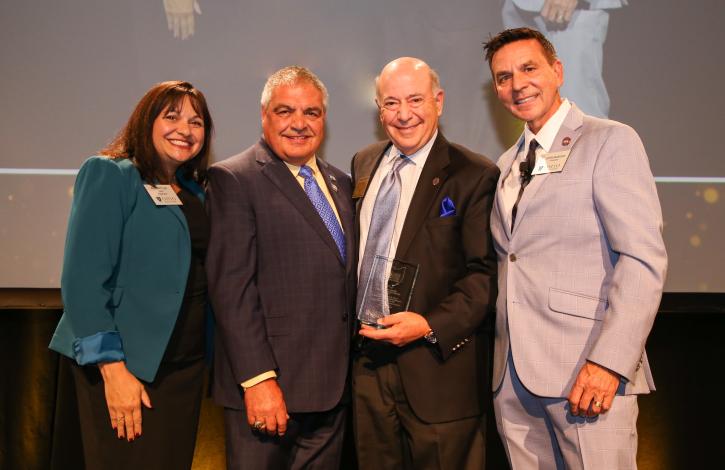 Steve Casper receives Ohio REALTORS 2022 Phillip R. Barnes RPAC Achievement Award
Sep 27, 2022
From left: Ohio REALTORS Treasurer Ali Whitley, President-elect Ralph Mantica, Ohio REALTORS 2022 Phillip R. Barnes RPAC Achievement Award recipient Steve Casper, and President John Mangas
REALTOR Stephen Casper, of Cincinnati, was honored with the Ohio REALTORS 2022 "Phillip R. Barnes RPAC Achievement Award."
The announcement of Casper's selection was made at the Ohio REALTORS 112th Annual Convention & EXPO, held in Cleveland, Sept. 18-21.
The "Phillip R. Barnes RPAC Achievement Award" was created in 2001 in memory of Past President Phillip R. Barnes, who was a leading advocate of the organization's REALTORS Political Action Committee. The Award is presented annually to a REALTOR whose commitment to RPAC and political involvement is exemplary.
Casper was a member of the inaugural class of the Ohio RPAC Hall of Honor in 2019 at the $25,000 level; and was inducted into the NAR RPAC Hall of Fame in 2009. He will be inducted into the $50,000 level for both NAR and Ohio REALTORS RPAC Hall's in 2023. At the local level, Casper is an RPAC Trustee and helped establish the REALTOR Alliance of Greater Cincinnati RPAC Hall of Fame.
Casper, who served as Ohio REALTORS President in 1988, remains actively involved in the organization, serving as a member and chair of numerous organizational committees at the local, state, and national level. He has previously served as Region #6 Vice President, representing Ohio and Michigan, for the National Association of REALTORS.
Casper, who joined Ohio REALTORS in 1974, has served the Association as a Director since 1986. Additionally, he has chaired and served as a member of a variety of committees, including Executive, Equal Opportunity & Cultural Diversity, Mediators Forum, Past Presidents, Professional Standards Forum, REALTORS Political Action Committee and Convention, among others. He has also led and been a member of several special task forces within the organization, including: 100th Anniversary, Agency, Non-Dues Revenue, Minimum Services for Listings, and a working group on Ohio REALTORS meeting structure.
Nationally, Casper has been a NAR director for more than 30 years and has served and/or chaired several committees, including: DSA Selection, Multiple Listing Policy, Professional Standards, Legislative, Strategy, Risk Management, Issues Mobilization, Diversity, and Executive, among others.
Casper is one of only six Ohioans to have received NAR's Distinguished Service Award.
Civically, he served on the City of Covington (KY) and City of Wyoming (OH) Commissions and is a member of numerous organizations, including the Cincinnati Beard Barons.
Casper holds the Accredited Buyer Representative (ABR), Certified Real Estate Brokerage Manager (CRB) and Seller Representative Specialist (SRS) professional designations offered by NAR. He is co-founder of SRS, currently one of the fastest growing NAR designation offerings.

"Steve's passion and commitment to the REALTOR community, and especially RPAC, is unparalleled." said Ohio REALTORS President John Mangas. "It is because of his efforts and support that the REALTOR voice is strong in our local municipalities, the Ohio Statehouse and in Washington, D.C."
Past recipients of the Phillip R. Barnes RPAC Achievement Award are: Phil Barnes (2001), Harley E. Rouda (2002), Vince Aveni (2003), Mary Pollock (2004), Nancy Sharp (2005), George Smith (2006), Steve Brown (2007), Hal Maxfield (2008), Barbara Lach (2009), Darlene Breen (2010), Bonnie Boyd (2011), Charlotte Van Steyn (2012), Phil Morrical Jr. (2013 — posthumously), John Lynch (2014), Joseph T. Aveni, Jr. (2015), Bradley Bennett (2016), Terry Hankner (2017), Brad Knapp (2018), Sue Lusk-Gleich (2019), Pete Kopf (2020), and Greg Hrabcak (2021).
The Ohio REALTORS, with more than 37,000 members, is the largest professional trade association in Ohio.