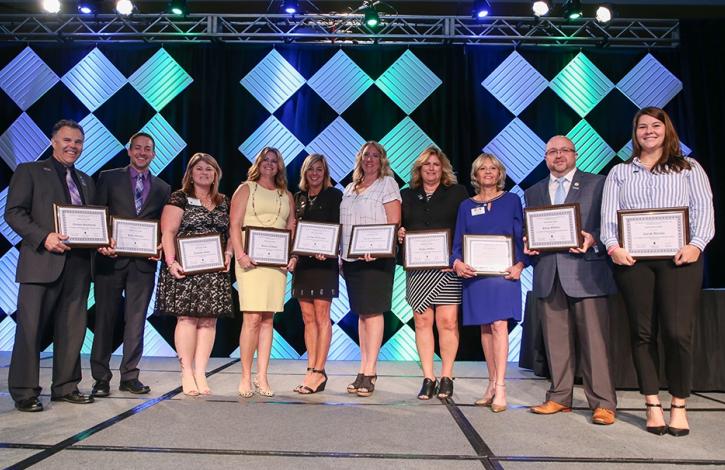 Congratulations to the Ohio REALTORS 2018 Leadership Academy graduating class!
Sep 25, 2018
The Ohio REALTORS Leadership Academy graduates — (From left) Dennis Hitchcock, Kyle Oberlin, Jennifer Allen, Maura Schmitt, Jo-Ann McFearin, Tricia Tennyson, Kathy Shiflet, Jan Jedlinsky, Brian Whitta, and Sarah Martie. Not pictured Monica Bess and Sarah Ford.
The Ohio REALTORS graduated its third Leadership Academy class during the Grand Session at organization's Annual Conference & EXPO, Sept. 16-18, in Columbus.
The 12-member Leadership Academy class completed an intense program focused on goal-setting, communication, business relationships and personal growth. It afforded participants the opportunity to grow both personally and professionally by gaining the knowledge, skills and confidence to excel as a leader.
Here's what each graduate had to say about their Ohio REALTORS Leadership Academy experience:
Jennifer Allen (Lake & Geauga Area Association of REALTORS) — "Leadership Academy offered personal growth in areas I didn't even realize needed polishing and I'm happy I did!"

Monica Bess (Heartland Board of REALTORS) — "The learning experiences and gained friendships have exceeded my personal and professional expectations of the Leardership Academy."

Sarah Ford (Toledo Regional Association of REALTORS) — "Deciding to apply and participate in the Ohio REALTORS Leadership Academy has been one of the best decisions of my careeer -- and my life. I now have a deeper understanding of myself, and a couple dozen awesome new friends and referral partners."

Dennis Hitchcock (Guernsey-Muskingum Valley Association of REALTORS) — "Being surrounded by great people with the passion to help others achieve their goals. Growing as a person and creating life-long relationships with my classmates and instructors."

Jan Jedlinsky (Columbus REALTORS) — "On first impression the 2018 ORLA class seemed diverse with a wide age range, years of real estate experience, areas we serve -- but through our sessions we have become cohesive equals. I love that together we have created brilliant and sometimes humorous memories that will last a lifetime."

Sarah Martie (Columbus REALTORS) — "Leadership Academy is my catalyst for growth. Growth in business knowledge, in personal development, in leadership progression, in mindset awareness and, most importantly, growth of beautiful life-long friendships."

Jo-Ann McFearin (Akron Cleveland Association of REALTORS) — "Through Leadership Academy I learned fundamental tools to apply in my business and personal life. It provides an opportunity to create your own life-changing experience with amazing other REALTORS to become the best person you can be."

Kyle Oberlin (Stark County Association of REALTORS) — "Being in Leadership Academy this year was truly spectacular on a personal and professional level. It really helped me gain perspective of how complex this industry is."

Maura Schmitt (Dayton REALTORS) — "I'm truly honored to have been a participant in this year's Leadership Academy! This experience has inspired me to take more responsibility in my profession and community, giving me strength to uphold our measure of ethics and integrity."

Kathy Shiflet (Columbus REALTORS) — "The Leadership Academy was life-changing personally and professionally."

Tricia Tennyson (Columbus REALTORS) — "It's given me the backbone to pursue and have leadership goals. The memories and experiences have been life-changing."

Brian Whitta (Heartland Board of REALTORS) — "ORLA has given me perspective on who i am, and the tools for how I can create the best possible version of myself."
Ohio REALTORS Leadership Academy participants work through a comprehensive training program that combines individual study, group retreats and unique initiatives to enhance leadership skills. Nationally recognized speakers assist in helping you tap into skills that will position you as a leader within the organization, the industry and your community.
The deadline to apply for inclusion in the 2019 Leadership Academy is November 1! Click here for more details on the program…as well as access the application.